While many take the holiday months to wind down and recuperate, those in the retail industry look at this season a little differently. It's definitely not quite as relaxing for them.
Consumer spending during the 2018 holiday season hit $850 billion — a six-year high — according to the Mastercard SpendingPulse report.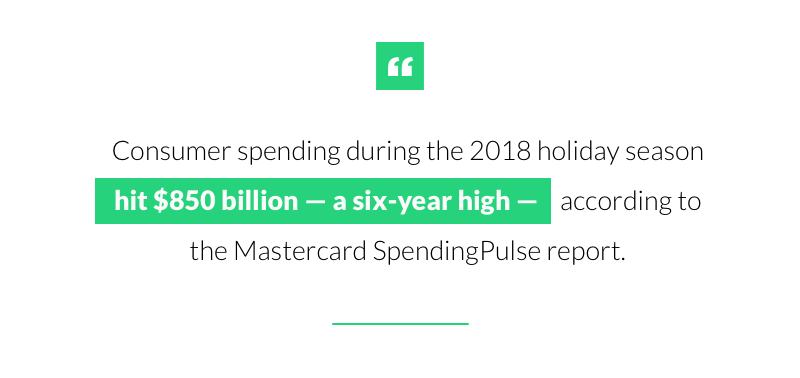 For retailers, it's never too early to start thinking about your holiday digital marketing strategy — and how to get your piece of that nearly-trillion-dollar pie.
Read: 5 Reasons Why Your Retail Marketing Strategy Isn't Working
To prepare for the busy buying season ahead, let's look at what 2018 taught us, both in store and online.
Holiday Retail Marketing Trend #1:
Leveraging Local Intent
If you're a retailer with brick & mortar locations, geo-focused marketing tactics can be your best friend this holiday season.
Let's take a look at some effective examples and explore what the future holds.
Get Creative With Geo-Targeted Ads
Any seasoned retail marketer knows that you can target your ads to a specific geographic location, whether you're running campaigns on Google, Facebook, or any other ad or social platform.

This marketing tactic is only expected to grow. According to a report from BIA Advisory Services, geo-targeted ad sales are expected to reach $32.4 billion in 2021, up from $12.4 billion in 2016.

Retailers have been experimenting with ad targeting strategies for decades. Many have noticed that geo-targeted ads containing locally relevant copy tend to outperform those that don't.
Take Street Fight's case study about Purple Mattress, for example. The mattress retailer launched a "Sleep Cool" campaign targeting warmer areas of the United States.
The marketing team found that headlines such as "Hey Phoenix, Start Sleeping Cooler," had a higher click-through rate compared to simpler, non-geo-targeted messaging like "Sleep Cool."
Strategies like this can be fruitful during the holiday season — especially when retailers include up-to-date information about a specific region and create a sense of urgency among buyers.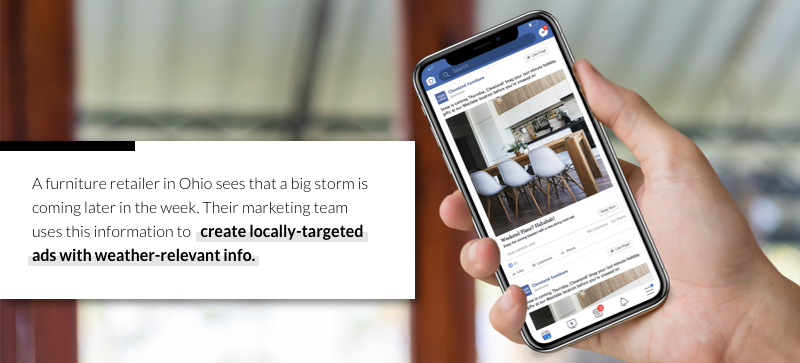 Example: A furniture retailer in Ohio sees that a big storm is coming later in the week.
Their marketing team uses this information to create locally-targeted ads with weather-relevant info, i.e. "Snow is coming Thursday, Cleveland. Snag your last minute holiday gifts at our Westlake location before you're snowed in!"

With geo-targeted ads, brick & mortar retailers can also leverage Google's local inventory ads, launched just last year. These ads allows retailers to reveal inventory information at local stores in their geo-targeted ads, encouraging nearby browsers to purchase items in the store.
Shop Organic: Maximize Local SEO Value
Digital isn't all about ad spend. Your organic search strategy needs to be on point, too.
Why? According to a report by the Local Search Association and Acquisio, 75% of local-intent searches on mobile result in an offline store visit within one day.
Control your GMB presence. Ensure that your Google My Business profile is optimized and contains the accurate NAP (Name, Address, Phone Number) information. You can also add Posts and multimedia to help people learn more about your business.
Solidify your local SEO keyword strategy. If you have location pages on your website (which, by the way, you should), ensure that they are fully optimized for geo-modified keywords and contain a healthy amount of on-page content. Local SEO is crucial for relevance as people actively shop and search for specific nearby products, services and stores.
Holiday Retail Marketing Trend #2:
Mobile Mindfulness
In no surprise to anyone, mobile retail sales are up year over year — 24% to be exact. Adobe's CMO.com reported that 2018 was the first year that smartphones made up more than half (51.4%) of all online visits during peak holiday shopping season.
It's clear that consumers continue to shop from their couches and research products everywhere — including the store — which means your mobile experience needs to be extremely user-friendly.
Here are a few quick tips to spruce up your ecommerce mobile experience: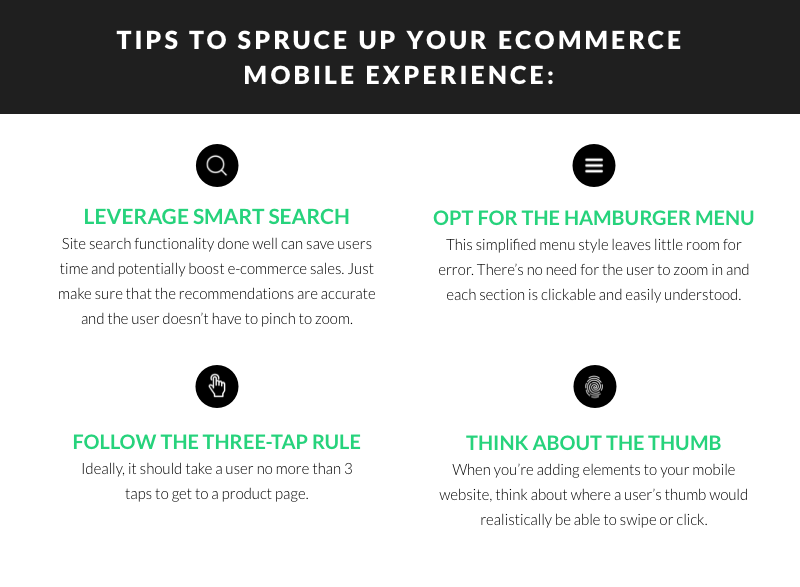 Leverage smart search.
The ability to search on a business' website — and actually find stuff — can save users time and boost e-commerce sales. Just make sure that the search results accurately reflect what the user is trying to find. Don't make users pinch to zoom, either!
Follow the three-tap rule.
Ideally, it should take a user no more than three taps to get to a product page.
Opt for the hamburger menu.
This simplified menu style leaves little room for error. There's no need for the user to zoom in, and each section is clickable and easily understood.
Think about the thumb.
When you're adding elements to your mobile website, think about where a user's thumb would realistically be able to swipe or click. The below image, from a Muzli article on Medium, shows us the most natural area for a user's swipe: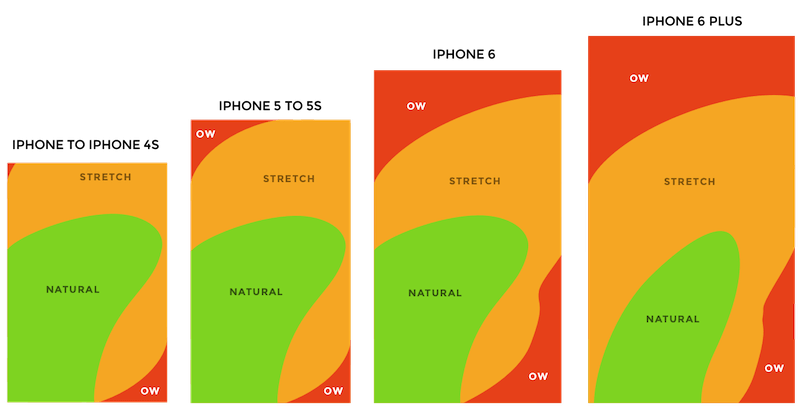 Quick side note: If these tips are prompting you to rethink the functionality of your ecommerce site, we're here to help. From UX/UI audits to web redesign, Silverback's creative and technical experts partner with retailers to launch websites built for the consumer journey.
Holiday Retail Marketing Trend #3:
Taking Advantage of the 5-Day Weekend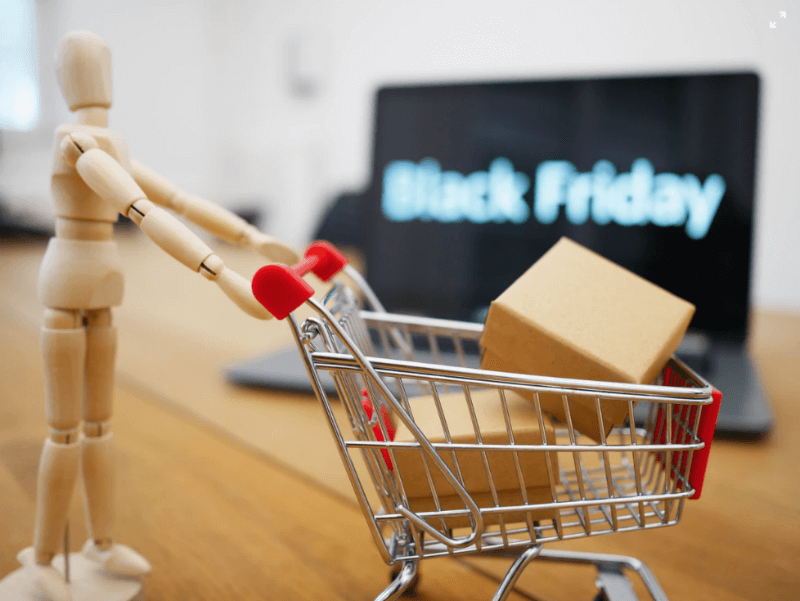 In retail and marketing, timing is everything. Capturing the right users at the right time with the right content can be challenging.
That's why we use data to figure out when (and how) buyers are shopping.
While it's important to start your holiday promos early (ahem, we posted this blog in July…), keep those peak buying times top-of-mind so you can reserve your budget.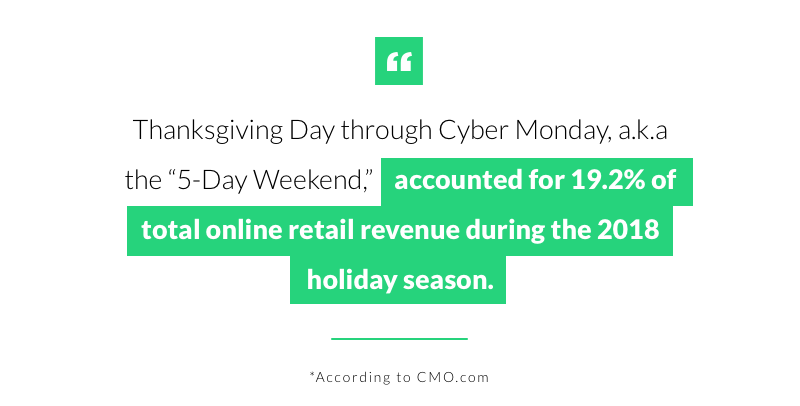 That's where the "5-Day Weekend" comes into play. According to CMO.com, Thanksgiving Day through Cyber Monday, a.k.a the "5-Day Weekend," accounted for 19.2% ($1 in every $5 spent) of total online retail revenue during the 2018 holiday season.
When it comes to your holiday retail marketing strategy, allocate a solid amount of your budget for promotions during this time, whether it's through email deals, Facebook and Instagram ads, or direct mail.
Download Now: Retail 101: A Comprehensive Guide to Managing Multi-Location Businesses Online
Holiday Retail Marketing Trend #4:
Flirting with BOPIS
If you're a retailer with both an online and in-store presence, you're most likely familiar with BOPIS: "Buy Online, Pickup In-Store."
An analysis based on anonymous data by Adobe Experience Cloud found that retailers with both physical and online stores saw a 50% uptick in the usage of BOPIS. While these shopping carts typically have only two to three items in them, this presents retailers with upsell opportunities once customers arrive in-store.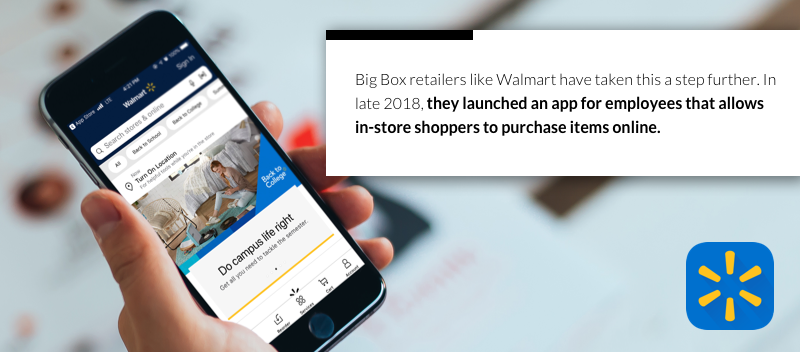 Big Box retailers like Walmart have taken this a step further. In late 2018, Walmart launched an app for employees that allows in-store shoppers to purchase items online.

Customers can opt to pick their items up in the store or have them shipped home, and can even pay with cash. This technology caters to those who might not have easy access to internet and those who prefer not to pay with credit cards.
After a short pilot program, Walmart revealed that this service became especially popular in the home department.
Holiday Retail Marketing Trend #5:
Customer Experience is Everything
Customer experience — from the first ad users are shown to the checkout process on your site (and beyond) — should be as seamless and personalized as possible.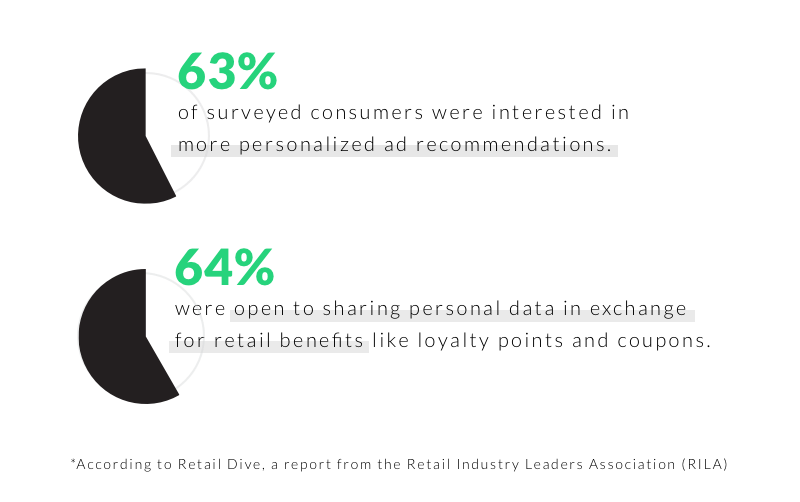 A focus on personalization, both online and in store, is more important than ever. According to Retail Dive, a report from the Retail Industry Leaders Association (RILA) found that 63% of surveyed consumers were interested in more personalized recommendations.
Another 64% of respondents were open to sharing personal data in exchange for retail benefits like loyalty points and coupons.

The Dive also notes that consumers are interested in more than just product recommendations. They continue to look to retailers as trusted advisors, interested in retailer-provided design, service, and even recipe suggestions.
The survey also revealed truths about immersive technology and its role in the personalized shopping experience. When it comes to augmented reality, consumers are already getting on board — 56% of consumers in the home decor and electronics vertical have already used such technology during the shopping process.
While 63% of retail execs surveyed placed importance on immersive technology, only 37% said they're investing in it heavily. Sounds like an opportunity to get ahead!
Refine Your Retail Marketing Strategy This Holiday.
Silverback Strategies works with retailers to drive performance both online and in store. If you have questions about your website, advertising strategy, or organic visibility, talk to one of our experts today and get a free marketing audit.
Black Friday photo courtesy of Gesina Kunkel / Mein-Deal.com.