Influencer marketing, as a strategy, takes many shapes. When a celebrity or industry expert mentions, models, or endorses your idea, product, or content, the ROI can be significant. Influencer marketing can expand your brand awareness, provide unique product promotion opportunities, and add value to your search engine optimization efforts.
It's a heavy lift to do all of this with one strategy. Since we are search people here at Silverback, let's focus on how to use influencer marketing to improve your SEO. First step: creating a sound influencer outreach program.
Create remarkable and relevant content
The first step to a great influencer program is to create a remarkable piece of content that aligns with your keyword ranking goals. Remember, the end goal is to improve your website's SEO performance. Use those keyword research tools and find the best strategic keyword for your content.
After you've landed on your keyword topic, it's important the content you create brings something new to the table (Tweet This!). Do your research. Find out what type of content is already ranking on the search engine results page (SERP) for your targeted keyword. Ask yourself how you can differentiate your writing to offer even more value to the consumer. The more specific you can be, the more valuable your content is likely to be. You don't want to create a piece of content that your audience has already seen elsewhere several times.
Influencers are difficult to dazzle. If you want them to link to your content, what you share with them should be mind-blowing. As you create your content strategy, be sure your content is readable. Add visuals such as high-res photos, original designs, infographics, videos, or GIFs that help to break up bulk text blocks and complement the story you're trying to tell.
After the content creation is complete, you should feel confident that your end product is both in line with your keyword targeting strategy and valuable enough to capture influencer interest.
Types of backlinks (and why they're important)
Link building and SEO go hand in hand. Building a strong and diverse backlink profile should already be on your SEO to-do list.
Influencer campaigns are a great way to do this. But before you start blasting off emails to influencers, it's important to understand what you're asking them for.
What are backlinks?
When a page on your website earns an inbound link, it means there is another page on the web that has hyperlinked to you. Known as backlinks, search engines see these as votes of credibility. The more votes your website or page has, the more likely it is that search engines will choose to show you in the SERP.
Unfortunately, Google does not reward all backlinks equally. There are two types of tags that can be associated with inbound links: follow and nofollow.
Follow links are crawlable by search bots and pass linking juice, or PageRank. Follow links work like a big flashing sign that says "Hey search engines, go here for really good stuff!"
Nofollow links — you guessed it — do not push linking juice from one site to the other. While there may be some value to acquiring nofollow links in your backlink profile, you SEO value will improve if the majority of your links are follow links.

Besides follow and nofollow tags, links can differ in value based on the authority of the site from which they are coming. For example, the link value from a local blog with a domain authority of 35 and 10,000 monthly site visitors does not carry as much weight or pass as much ranking juice as a link from an industry expert's blog with a domain authority of 60 and 1 million visitors per month.
One link from a high-quality site can be worth more than three links from low quality, possibly spammy sites. If you only have a few hours a week to allocate to link building, your time may be better spent reaching out to 10 influencers associated with high domain authority than 30 influencers with low domain authority.
What is an influencer?
Who counts as an influencer, you ask? Relevancy is key. The influencers you target should work in your industry and connect with your potential customers.
Let's say you run a catering business and you've just researched and written a blog post on 15 new techniques to fry a potato. How would you go about building an outreach list? : It's tempting to go straight for the "big fish," but you also need to be realistic as you build your influencer prospect list. Try breaking your list into 3 categories: let's call them A-listers, B-listers, and C-listers.
Your A-listers are your Gordon Ramsay's — highly respected, but difficult to reach or convince to give you a backlink.
Your B-listers are your popular food bloggers — influential, but their name may only be familiar to others who work in the field.
Your C-listers are your local food experts. They love to write about adventurous recipes and discover new restaurants around town.
Here are a few tools that can help you uncover your A-, B-, and C-listers:
BuzzStream Discovery. BuzzStream is an outreach management platform we use here at Silverback. Along with its management and reporting tools, BuzzStream offers BuzzStream Discovery. The Discovery program allows you to identify the right influencers for your strategy. Simply type in a search term and use the filtering options on the left hand rail to narrow down and qualify the results based on your outreach goals.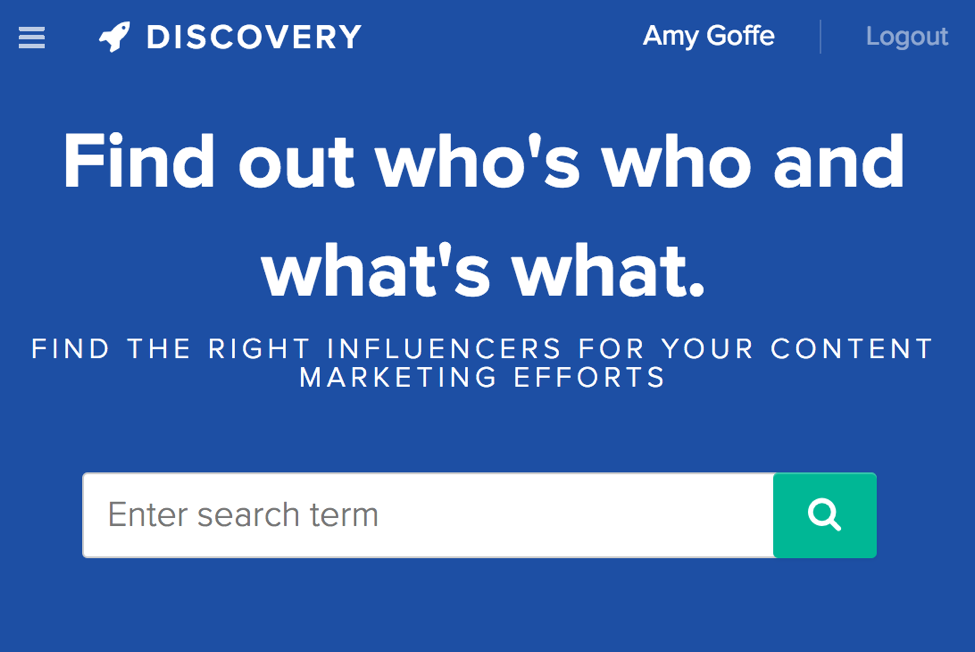 BuzzSumo. BuzzSumo is a tool that helps you discover the most popular content for a specific keyword. Like BuzzStream Discover, BuzzSumo's Influencer search tool allows you to find influencers associated with the keyword you're trying to rank for. BuzzSumo ranks these influencers based on their relevancy to the keyword you entered and their twitter following. On the downside, if the influencer is not active on Twitter the BuzzSumo app will have a hard time discovering them.
Social Media. Use the search features in Facebook, Instagram, or Twitter to look for people, groups, or accounts that use a hashtag or keyword that is in-line with your content. Be sure to connect with these people using your business or personal social media account. This will come in handy later when we discuss contact methods.
Local Lists. Perform a Google search for local list of influencers in your industry. Once you've found a list, take the time to visit each site and read about the influencer. You want to be sure the influencer is still active on their page and that the list you found is not out of date. Use a tool like the Mozbar to help you identify the influencer's domain authority and check to see if they tag their external links as follow or nofollow. *Pro tip:* For link building purposes, filter for influencers who have a domain authority of 30+.
How to reach out to influencers
Generally, the two best ways to contact an influencer are email and social media direct messaging. Use these tips to help figure out which method is best for your target influencer:
Research the influencer website. As you get to know your influencer, look around their website to learn how they like to communicate with their readers. Do they have a specific "Contact Me" page with a form fill? Or do they display their email right on the page? Sometimes, these influencers have an assistant or agent who acts as the gatekeeper of communications. If you can't find the email right away, use an email finder tool to uncover emails that are buried in the site.
Explore the influencer's social media profiles. Many influencers prefer to connect with their community through social media platforms like Twitter or Instagram. If the influencer is highly active on social media, you might find the best way to receive a response is through a direct message (DM). Be sure to follow or like the influencer's profiles. It's important to note that not all social media profiles accept direct messages right away. If you experience this road block, try tagging the influencer in a tweet.
Crafting your outreach message
Ditch the generic influencer marketing templates. Your first outreach message to the influencer should be personal and concise. From subject line to signature, let's break down what a link-worthy email looks like.
How to Write an Influencer Email
Subject: Try to avoid using general subject lines. Keep your subject line short while being clear about what's inside.
Body: Be sure to greet your influencer by his or her first name. You should include the reason why you're reaching out in the first or second sentence. You've done your research, so let them know that you know them and that the content you're sharing is relevant and worthy of their time. The last part of message should include a humble ask.
Signature: Similar to a professional email signature include your first and last name, business / brand name, email address, and phone number.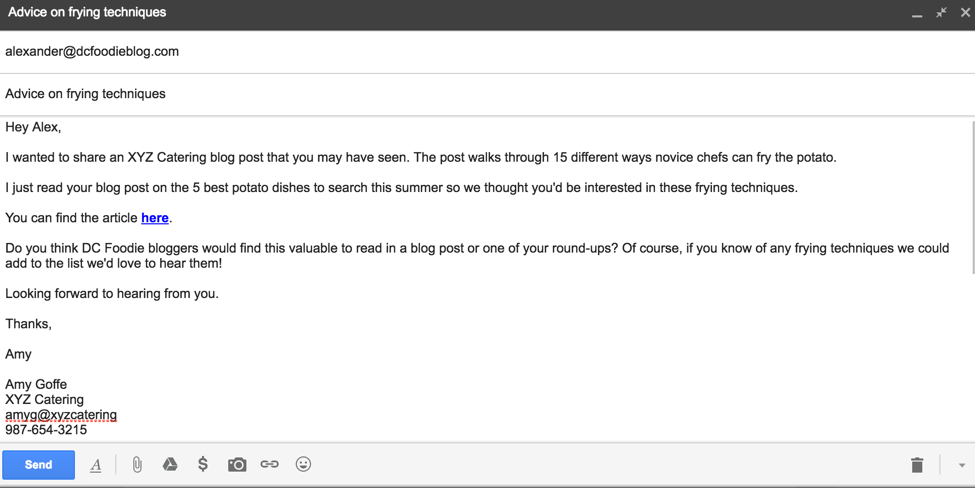 Tips for Writing an Influencer DM
There is no option to include a subject line for a Twitter direct message, so instead, focus your efforts on establishing a captive, concise opening sentence. Hit on the same basic notes as your influencer email (demonstrate your knowledge of their work, be personal, explain why the content is relevant, and express a clear ask), but be concise and mindful of the usual tone of whatever network you're using.
Since the influencer will be able to see your profile, be sure to sign the message with your name if you're messaging from your business profile. This allows you to make a more personal connection. There is no immediate need to provide your email address in the first outreach message, but you can provide your direct contact info should the influencer want to connect via email or phone. Influencer outreach is a marketing strategy, so testing is an important factor for success. Test your subject lines, main message, and even the days and times you send your emails or direct messages.
Should you send follow-up emails?
If you don't receive a response to your email after two weeks (max), send a follow up email. Influencers are busy people, so a second email following up your initial outreach message can increase your chances of receiving a response. Try sending your follow-up email on a different day or different time. A few key things to remember when following up:
Send a reply message. Instead of starting a new email, send a reply email in response to your first message. This way, both your first and second outreach attempts will be on the same email chain. Should the blogger need to refer to the first message for more information, she can easily find it in the feed.
Keep your follow-up message short and sweet. The purpose of a follow-up email is to remind the influencer that you've already reached out before. Remind them what you are sharing, and remember to ask for a response. Here's an example: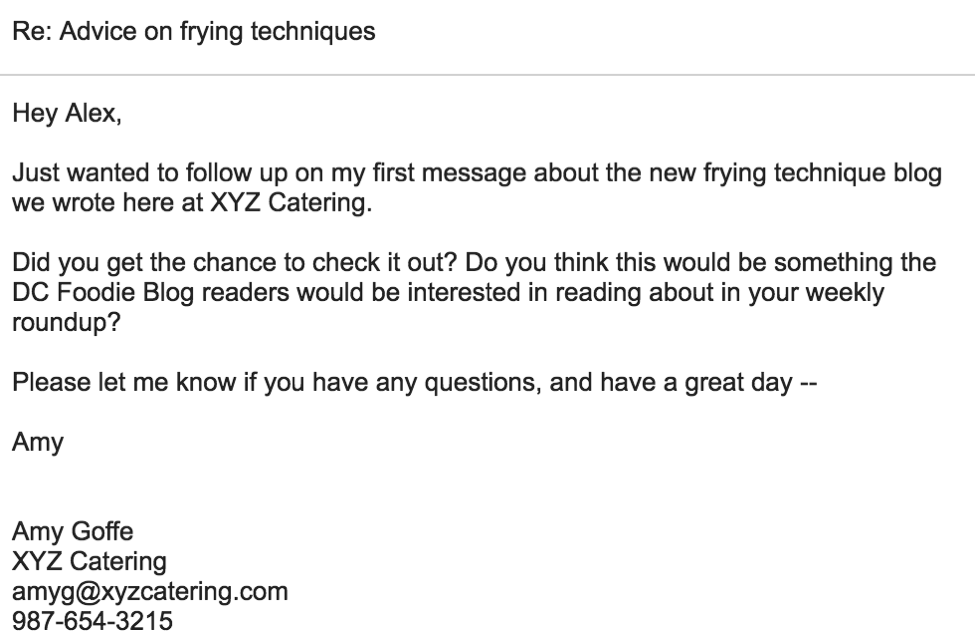 Managing your relationships
Influencer outreach is all about relationship building (Tweet this!). The exchange of content for a backlink from an influencer is not simply a one-and-done deal. Here are a few final tips to keep in mind when building your influencer strategy:
Think of the long game. Even if the influencer does not provide you with a link, do not cross them off your list. There is still value in connecting with them down the road.
Use tools like Buzzstream to keep track of your influencer contact list. It's a good idea to leave notes behind that help document the relationship. That way, if you decide to circle back with them, you know exactly what you discussed the last time you reached out.
Highlight the influencer in your content. Ask them to take part in an interview for a Q&A blog post or feature them as a guest on a webinar. They'll be more apt to share your content if they are the center of attention.
Reaching out to influencers is personal and takes time. So do your keyword research, create remarkable content, find relevant influencers, craft personalized messages, and be sure to keep in contact — the relationships you build are beneficial for your long-term SEO game plan.
Have you had success with your influencer outreach efforts? Share with us below or on Twitter by mentioning @SilverbackStrat.