Since 71% of U.S. businesses are on Instagram, it's probably safe to say that your brand's marketing team is actively using Instagram Business now.
If not, you've likely dedicated several conversations, Slack threads and breakout-room debates to the pluses and minuses of using Instagram Business — or using it more.
It's not necessarily a terrible thing to be in the "Not, or Not Enough" category. There are plenty of marketers out there — at companies big and small — that don't recognize the nuances that a successful Instagram presence should offer.
A ham-fisted approach to Instagram can lead to missed opportunities and embarrassing gaffes that can impact your brand much differently than what you wanted when you decided to dive into this space.

Don't be that brand! Let's take a look at five common mistakes we should all avoid on the platform.
5 Glaring Errors to Avoid in Instagram Business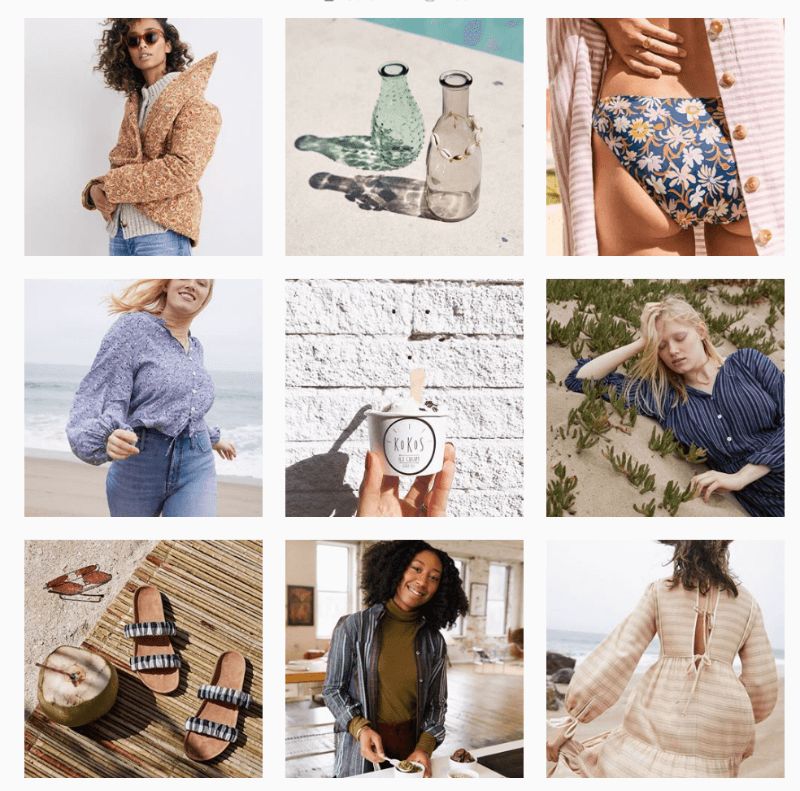 1. "Let's share that on Instagram, too."
According to a study by Facebook, 72% of those surveyed said Instagram is a platform that allows interaction with brands. The simple lesson: Instagram users are open to engagement. They will like and comment on your content. They will purchase through Shoppable Ads.
You just have to be creative about stopping those users' scroll. And as silly as this may seem, it must be noted: you have to be creative. You can't just slap the same imagery you used in Twitter, LinkedIn, Facebook and wherever else and expect it to move the needle in a meaningful way
Instagram itself makes the following creative recommendations:
Make your brand the lead actor. "Use different elements of your brand, such as such as brand logos, colors and products when making ads. This will allow your business to establish its brand identity, create a holistic creative experience for your community and drive brand recall." Makes sense.
Create for mobile first. Instagram is a mobile experience, by and large, Shoehorning in images or, even worse, video that simply does not fit or is aesthetically unappealing in the mobile format is not even a rookie mistake — it's lazy.
Fully utilize the vertical canvas. This tip piggybacks on the previous note. How do you grab someone's attention in a medium where their default action is to scroll right past your work? Grab as much of their attention as you can in an instant. Images (and video) that promise a compelling story, deeper immersion or an experience that makes you laugh, wish, hope or dream are more likely to freeze the scroll.
Design for an objective. What's your goal? Why are you using Instagram Business? To change the way people think about your brand? To sell products? To create engagement for other remarketing efforts? Does your creative help make that happen?

If not, why are you doing what you're doing? If you do not have the resources to create great content for the platform, you should probably save yourself the time and trouble until you do.
A Note About Links
The bio, as you know, is the only place within Instagram that allows an organic hyperlink. The only way this is possible is through Instagram ads.

For options that don't involve ads, consider:
Link Services. An additional way to maximize the link in your bio is through a third party link service. Each service offers methods to share multiple links. A couple of popular examples are Linktree and Like2Buy.
Some may find these services cumbersome, but they do offer various ways to allow users to move from the platform to multiple destinations.
Links in Instagram Stories. The most direct way to share individual links without spending any additional budget is through Stories.
The one caveat (and it's a big one): your account needs to either have more than 10,000 followers or be verified for the feature to appear. With 39% of users becoming more interested in a brand or product after seeing it on Stories, it's worth the extra work. More on verification below.
2. "We don't need to do Instagram Stories."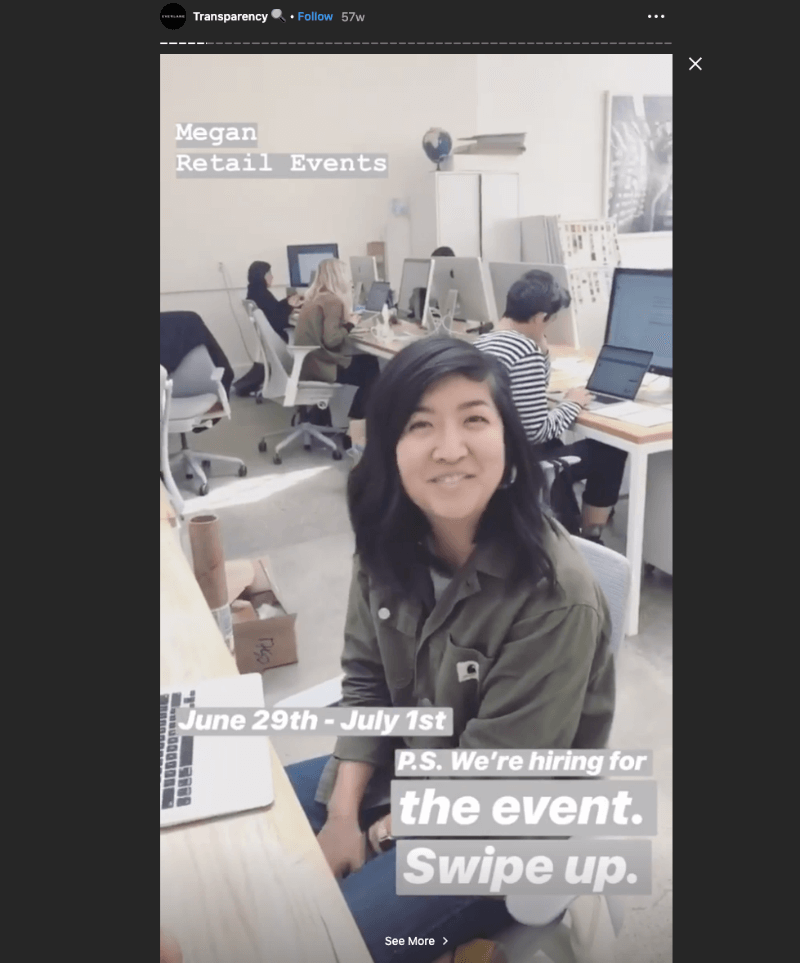 Yes. Yes, you do.
About 500 million Instagrammers use Stories, and that's up from 300 million in October 2017. At this rate, it's very possible there will be another 100 million by this time next year.
There's more: one third of the most viewed stories are from brands. Stories are a great place to test and learn, as well as request feedback from fans.
Users don't expect creative perfection in Stories, either, and it's an opportunity to give an real inside look into your brand.
Don't Forget About Highlights!
Highlights are another tool to give users access to your brand, your products and your website. In a study conducted by ClearVoice, 63% of users say they watch brand highlights. Use this feature to house individual Stories and give them a longer shelf life.
3. "Our Instagram profile needs to have a distinct grid."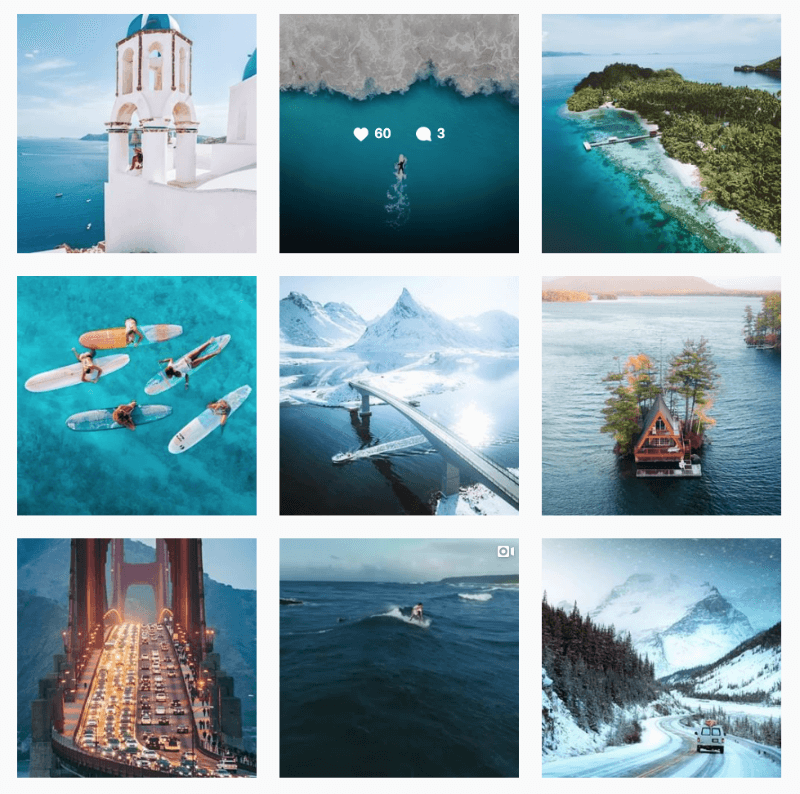 This one is a bit tricky because, to be fair, we should want our content to look good, and we should have strategy and structure surrounding the content we post. That can (and should) be said for any platform.
At times, however, scenarios can arise when the visual layout begin to take precedence over platform marketing goals. Where do we strike the balance?
Over 200 million Instagrammers visit at least one business profile daily. It's smart to make sure the content not only looks good on an individual level, but also as a whole.
However, there's a difference between having a certain aesthetic and posting an image grid that can only be viewed from the profile page. Grids were once a fad on the platform, but they're no longer as prevalent — in fact, they sometimes feel a little sales-y.
If there isn't a thumb-stopping element for each post, your content will look disjointed in the feed and exist purely as decoration. Let's leave grids in 2018, where they belong.
Aesthetic and Strategy Rule
However, there's nothing wrong with having a certain aesthetic across all of your content (look at West Elm, for example)! The greater strategy, however, must come first.
Your feed represents your brand's identity. Not all brands have super sexy profiles, but they kill it anyway because it fits their audience. Take a look at Chipotle as an example.
4. "Our Instagram account can't be verified."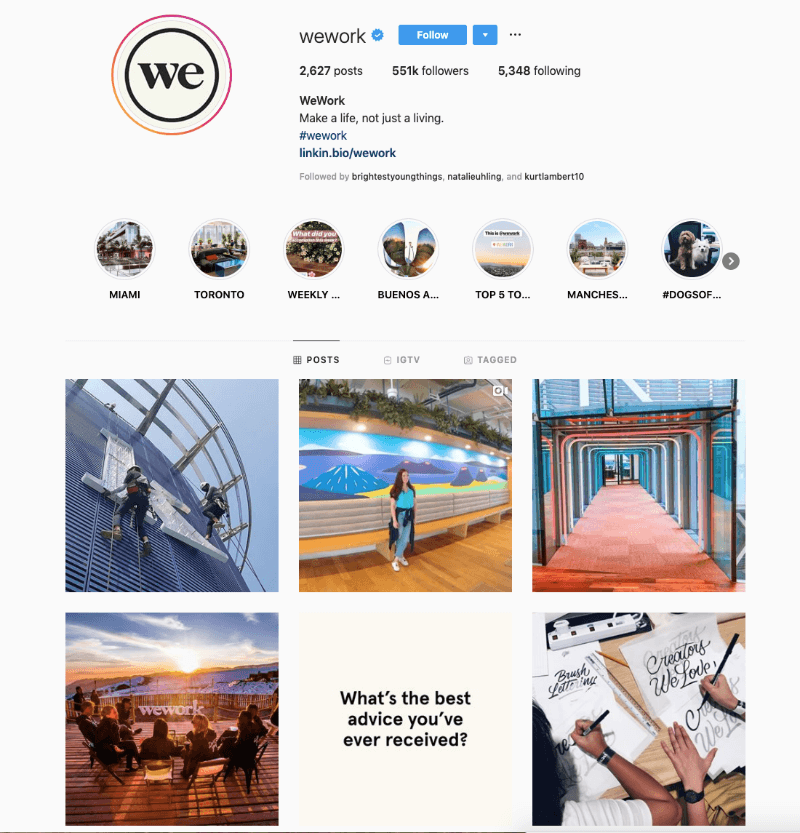 Yes, it can, and it should be. Here's how.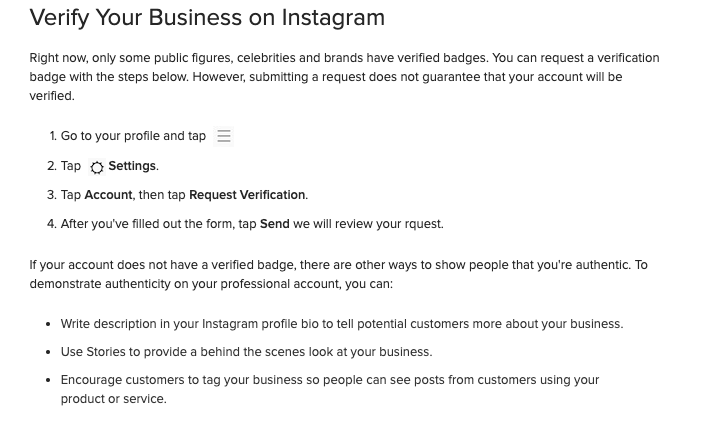 This one is simple. If you're a brand, you should have that blue tick next to your name. Contact your Facebook rep to make that happen.

If you don't have one, no worries! You can request verification directly through the app.
Verification not only shows users that your brand account is official — there are a lot of fakes out there — but it also gives you the opportunity to experiment with the latest features ahead of others. Updates usually roll out with verified accounts first.
5. "I didn't know we could do that on Instagram."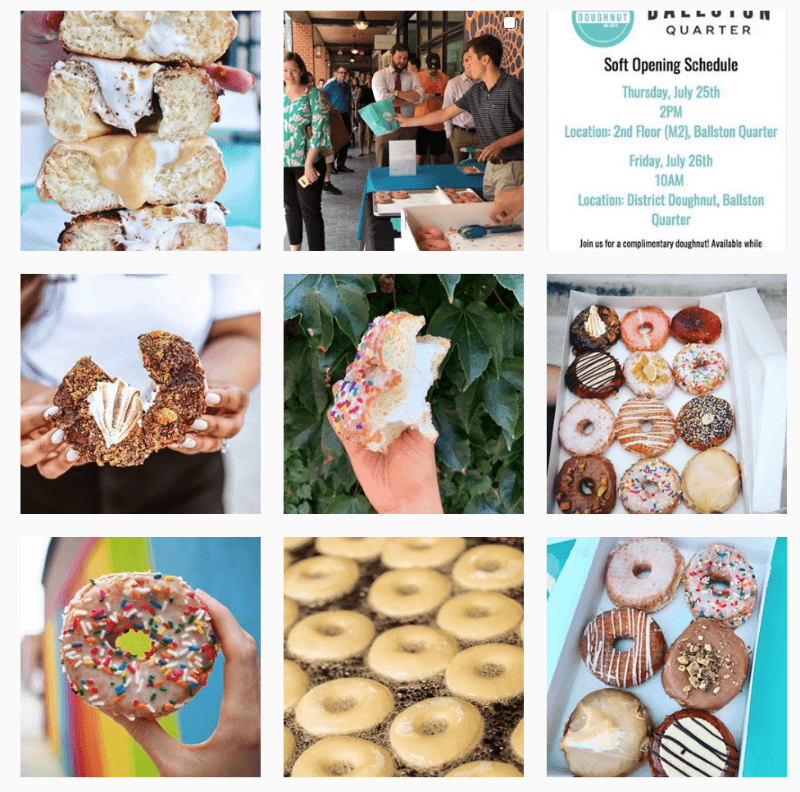 In the words of 1980s R+B legends Exposé, seasons change. Instagram updates its platform regularly, and because it's owned by Facebook, Facebook's updates could also affect your Instagram strategy.
A couple of upcoming changes that might have an impact on your platform strategy include Facebook's Clear History tool and Instagram hiding likes on posts, which was first announced at F8 earlier this year.
Facebook's new Clear History tool is coming, and could hinder ad retargeting on platforms like Instagram. You may want to revisit your ads strategy and make adjustments before the tool goes live later this year.
Instagram like removal is still in the testing phase, as reported by TechCrunch. This change may not have a large impact on brand account performance; it may change user engagement behavior, so it'll be interesting to see how it plays out.
Follow Instagram's official Business Blog and Facebook's...well, Facebook has 24 different blogs you can track. Choose what works best for you. Facebook's Business Blog is pretty relevant for most marketers.
Re-evaluate Your Social Media Strategy.
Silverback offers a collaborative, results-based approach to social media. We'd love to discuss ways you can make your social programs more impactful with better creative, targeting, budgeting and strategy. Contact us today.

Lynsey Jacob contributed to this blog post.