Like with almost anything in life, planning is everything with SEO. Before the first click of a mouse or the first new word of content is written in an SEO campaign, the entire strategy must be well-thought out in advance. Of course at some point during the planning phase, specific action items and deliverables that will need to be completed over the course of the SEO campaign will need to be listed out, but how are those action items and deliverables determined in the first place?
It all comes down to what you truly hope to achieve at the end of an SEO campaign. What will the SEO mean to your website and how will it affect your business' goals and objectives in a positive manner? How will you truly define value from SEO, and what will be considered a successful campaign?
That is a question that clearly depends on a variety of factors such as the size of your business, your industry, and sometimes even the seasonality of which the SEO campaign is taking place. While every business is unique in its own right, there are a few commonly used metrics that can typically do a good job at measuring the current state of a website's SEO, and increasing those metrics typically means the SEO is running successfully.
Overall Organic Traffic
Organic traffic is a number most often looked at when gauging SEO success. It's a good metric to use for a number of reasons: it's very straightforward; easy to understand; and at the end of the day, increasing the overall organic traffic means search engines are placing more authority in your website, leading to more people finding your business via organic searches. As having a site full of great content seemingly becomes more and more important for great overall SEO, looking at sitewide organic traffic can be a very good barometer for SEO performance.

When using the increase of overall organic traffic as the main SEO goal, it is important to keep proper expectations -- it is pretty rare that a website's organic traffic can jump by a large percentage from one month to another. However, steady organic growth can be much more evident when looking at monthly data for an entire year.
Organic Traffic - Certain Content Section
While overall organic traffic provides good insight into how SEO may be doing for an entire website, sometimes a business may want to focus on a particular section of their website. This may align with a high-level company objective to promote a particular product or service featured on the website. It could also mean placing an added emphasis on a blog/news section of a website, trying to generate articles of higher quality and/or quantity, which in turn leads to greater search engine exposure.
There are a few ways to track the performance of a specific section of a website in Google Analytics. One of the easiest ways is to setup Content Grouping in Analytics, which allows you to create segments of the website using an additional line of tracking code or using URL rule definitions directly from Analytics. Once Content Groups are established, filtering out organic traffic from Google Analytics reports can be done from almost any reporting view.
Goal Completions/Conversions
Taking the Google Analytics tracking one step further than looking at strictly organic traffic, using goal completions to measure SEO success adds an extra layer of quality to the performance of an SEO campaign. It ensures that not only the amount of traffic is increasing, but the traffic that is being brought to the website is actually targeted, high quality traffic.
Most websites have at least one desired end goal -- what you'd want a site visitor to accomplish while browsing your website -- that are fully trackable in GA. This works especially well for websites focused on lead generation, as those leads can be attributed to a specific medium like "organic search" via reports in Google Analytics.
Form submissions - Form submissions can be easily marked as a conversion point in Google Analytics by either marking a "thank you" confirmation page view as a conversion, or by tracking each time the submit button is successfully used. Forms like quote requests and signups work very well in situations like this.
Downloads - Some websites feature a download they'd like visitors to take advantage of, whether it's an actual software download, or something like an informational whitepaper PDF. Google Analytics' Event tracking makes tagging these links as an "event" very simple, then allowing an event like that to be marked as a goal completion.
Phone calls - Third party phone call tracking is a great addition to any business' website, and some third party phone call tracking companies have helpful features that allow each phone call that comes in through the website to be properly attributed to organic search when applicable.
Once these conversion points are created, it's time to let the data start flowing into Google Analytics. When there's enough data to look at, viewing the goal completion data is just a few quick steps away. To see an overview of all the conversions that can be attributed to organic search (and thus, your SEO campaign), select Conversions from the main Analytics menu along the left side of the screen, then choose Overview from the drop-down menu. You'll then be able to see a snapshot of goal completions from all traffic mediums and sources. Along the top of the Overview page, you'll see the segmenting option currently set to "All Sessions."



We can then update this segment to be filtered down to only look at Organic Traffic:


The drop-down menu used to segment Organic Traffic
Revenue
Much like tracking goal completions, using revenue data to measure SEO performance let's us make sure that the increase in organic traffic is also producing higher quality traffic as well. While revenue data only applies to ecommerce websites, it does allow us to literally track the ROI of an SEO campaign down to the penny. Google Analytics includes the ability for some pretty slick revenue tracking, so we're able to see metrics like the number of transactions, the revenue amounts, the top-performing products, etc. -- all of which can be traced back to SEO.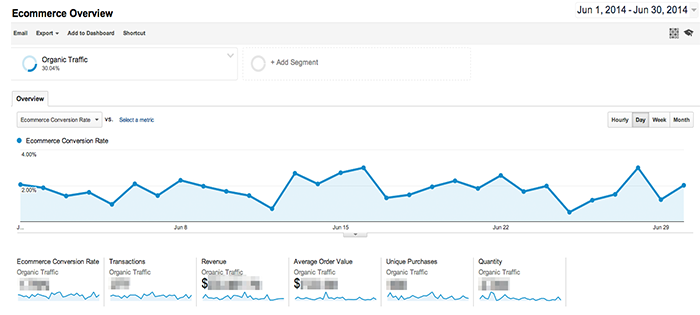 Ecommerce data found in Google Analytics, looking at the Organic Traffic segment

The ecommerce data can be found under the Conversions category in Google Analytics. To filter out strictly the ecommerce data coming from organic searches, we'll need to update the filter along the top of the page, changing "All Sessions" to "Organic Traffic."
Keyword Rankings
Keyword rankings have long been a way to gauge SEO success. It's certainly more of an "old school" method that involves defining a set keyword list, using a keyword ranking platform like Authority Labs to check where your website currently ranks in search engines for each keyword on that list, then over the duration of the SEO campaign, monitoring how each keyword's ranking changes based off both on-page and off-page optimizations.
While this kind of reporting is probably not as widely-used as it once was due to Google algorithm updates rewarding businesses for strong overall sites instead of being micro-optimized for certain keywords, there is still a lot of value you can get out of checking individual keyword rankings. Checking to make sure your business is ranked in the top 3 for a keyword not only leads to more organic traffic, but it also goes a really long way at helping improve your brand awareness, credibility and exposure.
So which is the best method for proving value in SEO? There's not really a definitive right or wrong answer. Usually a good way to approach defining SEO success comes from a combination of these methods; establishing a group of "primary" keywords to build content for and launch a linking outreach campaign around, which leads to monitoring keyword rankings for that group; while this is going on, sitewide SEO optimizations are made to improve the overall health of a website, which leads to showing increases in overall organic traffic. Once the increases in organic traffic are visible, the time comes for really paying attention to the conversion data -- tweaking the website's pages, content, and conversion points to make sure the organic traffic that is coming into the website either results in more lead generations, or in an ecommerce situation, more sales from organic search.