With nearly 2.5 billion monthly users, advertising on Facebook is a no-brainer. Your audience is there.
As it has grown, so has its business tools. Facebook Advertising offers dozens of routes to take. This means that your business no longer needs to stay beholden to static, old-school Image Ads.
So what underutilized Facebook ad types should you be using?
Facebook Ad Types: Video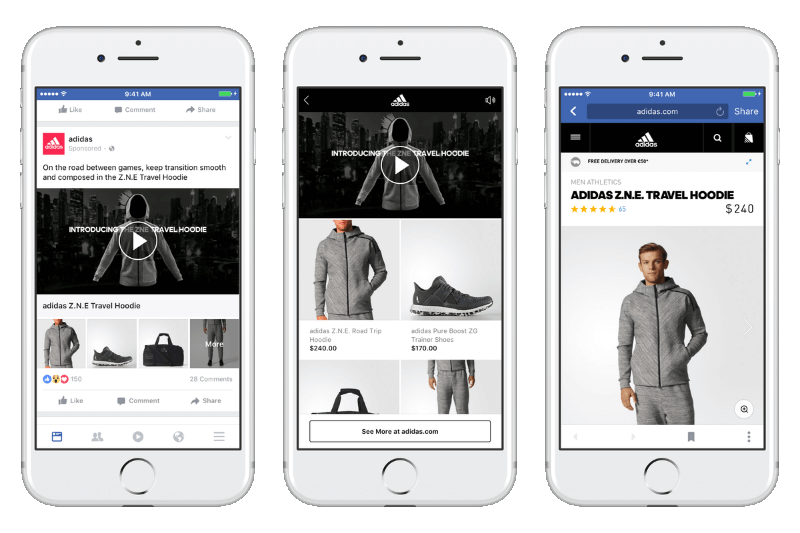 Image Ads have been a staple of Facebook advertising for years — and yes, they have proven themselves to be an effective tool for brand-building, promotion and engagement.
Every day, however, users consume more than 100 million hours of video on Facebook, and spend five times longer watching a video versus time spent viewing a static image.
Creating a video ad doesn't have to be a daunting task, requiring production crews and videographers. You also don't need a huge advertising budget to produce.
Ripl, for example, is a free app that allows you to string together static images, adding animation and text; and Facebook itself allows you to create "video" ads by stringing together a series of still images with free music samples (see the section on Facebook Carousel below).
How to Create A Facebook Video Ad
Creating a Facebook Video Ad is not much different than running a traditional ad. Here is a quick review.
Go to Ads Manager and click on Create Ad in the upper right corner. Choose your marketing objective — there are several objective options that support video ads, including Brand Awareness, Video Views, Lead Generation and Conversions. Name your campaign after you select your objective before you click on Continue.
Define your audience. It's recommended that you create a custom audience to reach your targeted consumer.
Decide on the placement of your Ad. Select Automatic Placements if you'd like Facebook to automatically place your ads in the places they're likely to perform best.
Select Single Video as your format.You'll then be prompted to upload your video, add text, a URL, etc. Click Place Order and, after a review, your ad will start running.
How To Optimize Your Facebook Video Ad
Keep it short! Facebook recommends a length of 5-15 seconds.
Be square: Square videos take up 78% more space in the News Feed and consistently outperform landscape videos. When it comes to Facebook Video Ads, 9:16 and 1:1 are both better than 16:9.
Tell Them Who and Why: Use the first three seconds of the ad to create brand awareness and generate interest. Insert your CTA in the middle, when you have an intrigued audience.
Waiting to insert your CTA at the end of the video risks losing user interest. Mid-roll CTAs have the highest average conversion rate at 16.95%, compared to 10.98% for post-roll and 3.15% for pre-roll.
Stay Quiet: Most people use the mobile version of Facebook — 96% of users visit Facebook via mobile, according to Statista, while only one in four users are hitting Facebook on laptops or desktops. Unsolicited sound is interruptive to the mobile experience.

Additionally, Video Ads play on mute as soon as a user scrolls past them. If you're banking on a V.O. to sell your video, you're losing out on a considerable portion of your audience.
Facebook Ad Types: Carousel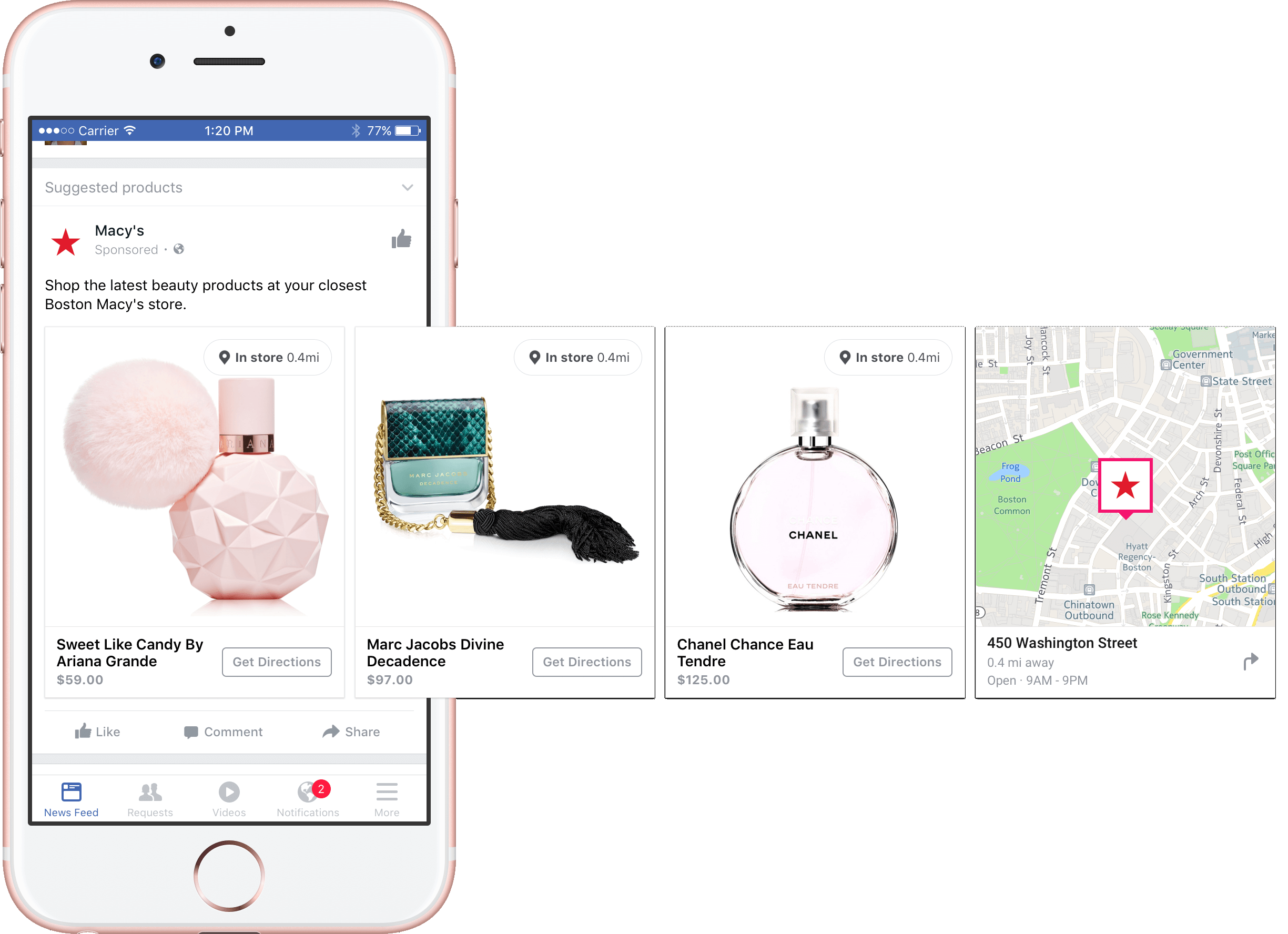 The Facebook Carousel format allows you to display up to 10 images or videos within a single ad. Carousel Ads encourage users to interact with your ad. This type of ad works best for:

E-commerce: Showcasing a wide range of products or information
Storytelling: According to Facebook, advertisers using Carousel ads see 30-50% lower cost-per-conversions and 20-30% lower cost-per-click than single-image link ads.
Keep these Carousel specs in mind:
Image/Thumbnail size: 1,080 x 1,080 pixels
Image/Video aspect ratio: 1:1 (square)
Text: 125 characters
Headline: 40 characters
Link description: 20 characters
Number of cards: 2-10
Image file size: 30MB max
How To Create Facebook Carousel Ads
The only difference in creating Carousel Ads is the number of images chosen to upload. The text should be overarching and work for every card created. Be sure to check the selection to Automatically show best performing cards first, and remember that more granular headlines can be added to each individual card.
How To Optimize Your Facebook Carousel Ads
Use engaging images and/or videos. Define the ad aesthetic and then use images and/or videos that feel similar to each other (ex: same color schemes).
Make sure the text within the image meets Facebook guidelines. Facebook Ads must have 25% or less text within an image. Facebook has a free tool advertisers should use to ensure that ads get approved.
Show the best-performing Carousel cards first. The Carousel format lets you test multiple pieces of creative at once and then re-order them based on performance. This allows replacement or removal of low-performing images.
Send customers to the correct landing page. Take people who click on a carousel card to specific product pages.
Facebook Ad Types: Offers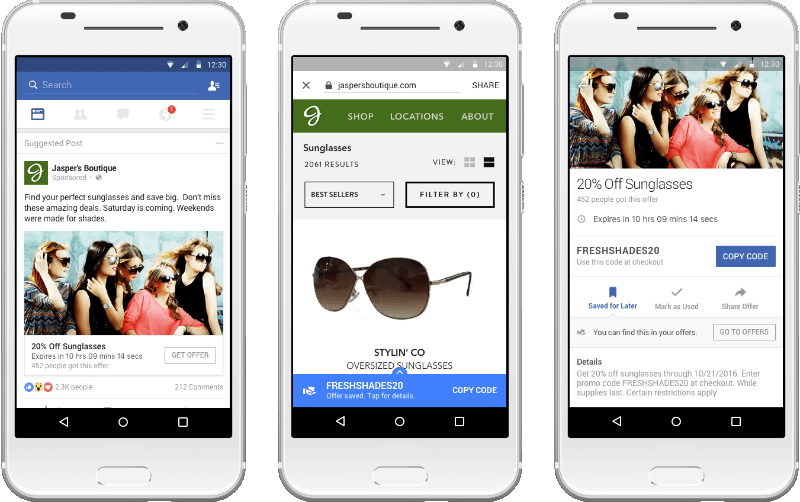 Offer ads are a quick way to grab a consumer's attention and encourage them to act. These customizable, mobile-only ads are excellent for both brick-and-mortar locations as well as e-commerce promotion.
Offer ads are a great strategy for bringing in new customers as well as increasing awareness among existing customers. Although — technically — you would be selling your product/service at a discounted price, offer ads are a great way to create sales and turn these buyers into repeat customers with tailored offers.
"The idea is to get new customers in the door in order to drive repeat purchases over time," says Emily Vaeth, a paid media manager at Silverback Strategies. "Offers also increase the potential for social media engagement."
How To Create Facebook Offer Ads
In Ads Manager, choose Traffic, Conversions, or Store Traffic as the campaign objective. In the section labeled Offer, toggle the switch on.
When a user claims an online offer, they will receive a discount code (ex: free shipping, 25% off purchase) and will be sent to your website to shop. If your offer is for in-store shopping, users will receive a barcode which can be used later at checkout.
How To Optimize Your Facebook Offer Ads
Review Before Posting: Live offers cannot be edited. Confirm that the images and copy are correct.
Set Limits and Expirations: Set a limit on the number of offers available, to encourage consumers to act fast.

"Adding an expiration date creates a sense of urgency in using the offer," Emily notes. "Not every customer will interact with your offer on the day you post it, so set the expiration date 48 hours to a week out."
Create Goals: This ad type is a bit harder to measure in terms of success. We suggest creating goals for both Offers Saved and Offers Used. It is important to track users that do not use the offer, in order to fine-tune your promotion and remarket to consumers who have shown interest in your product.
Facebook's platform has over a dozen options advertisers can utilize to promote their business or product. Because of the overwhelming amount of choices, most choose to stick to single image ads.
By implementing only one of these underutilized tools, you're giving your business an advantage over the competition.
Remember that with all Facebook ad types, the success of your campaign is determined based on the objectives set. If this all seems daunting, partnering with an agency will give you a powerful social media advertising strategy.
Let's Take a Look at Your Facebook Strategy.
A solid Facebook game plan requires creative, content and paid expertise to blend into a single, unified strategy. Do you need help knocking down silos, finding efficiencies and delivering an outstanding Facebook experience that engages users and drives traffic leads and sales to your business? Maybe it's time to chat with the experts at Silverback. Let's talk about your social media strategy today. Contact us.