Let's start with a cliche: change is constant.
Now, truth: the advertising world is changing at a tremendous rate.
Consider some of these seismic moves by giants in 2018:
Procter & Gamble, whose $10.5 billion ad budget makes it the second-largest advertiser in the United States, built a new in-house creative agency by simply plucking talent from its partners Saatchi & Saatchi, Grey, Marina Maher Communications and Hearts & Science. "We need to continue to raise the bar on creativity and the ability to reach consumers in a new way," P&G CBO Mark Pritchard told The Wall Street Journal. "It's a new model. That requires new agency models."
WPP moved to combine some major agency brands, pairing digital marketing leader VML with its well-known strategy and creative shop, Y&R, and coupling "creatively driven, data inspired" Wunderman with JWT, one of the 20th century's most iconic names in ad creative.
Martin Sorrell's S4 Capital released a prospectus in September with an ad delivery chain that eliminates the traditional creative agency. More general "content development and distribution" is prioritized. Brand identity, digital interface design, infrastructure development and data analytics are the other key steps to successful S4 campaigns.
Each move represents an attempt to get the creative side of the business closer to the performance side. It's a process that we recognize at Silverback Strategies because we've gone through this process ourselves.
Creative and Performance Are Keys to the Future.
Our agency DNA is stamped by performance marketing — digital search and social media, to be specific, or paid search and SEO — and we started building an in-house creative team in 2016 to directly compliment these services.
It's been a challenge at times. Why?
We've hired good people. We've built out profitable programs. We've been able to improve what we offer our legacy clients while providing new fuel to grow the agency at a tremendous rate.
The difficulty, at times, has been integrating creative professionals into an environment that is significantly different than what one may expect at a creative agency, or even at a more traditional full-service shop.
Turnaround times are often faster; internal expectations are different; the clients are paying for hard numbers in terms of traffic, leads and sales that sometimes make creative pros used to more subjective metrics and less direct accountability uncomfortable.
What we have learned, over these three years, are some best practices that allow us to integrate creatives into the performance environment more effectively.
We have found that creative pros often find real gratification in a performance environment when they understand how their work solves real client problems and creates genuine disruption in our partners' industries. They thrive in ways they may not have expected.
Here's how we've done it so far.
1. We give our creatives client access.
In many agency scenarios, information comes to creative professionals secondhand. Feedback is filtered through an account executive who collects a client's wishes and delivers them, like stone tablets from Mount Sinai, to the desk of the designer or developer or copywriter.
The same creative may get more (and sometimes conflicting) client information from other managers on the account, their fellow creatives or the notes they find on email :cc's or winding Basecamp threads.
All in all, this narrow channel of communication creates distance from the main goal, isolation from agency peers and reliance on the singular interpretation of an account executive.
"You put a face and a personality to your client, whether you're working with them directly or not," Kerianne Condon, creative director at Silverback, says. "You view them as a human. But when you don't work with them directly, you only know the client as someone out there who's telling you what's wrong with your work. The praise doesn't always come through, and the only interaction you may have with is hearing negative things that are passed through secondhand."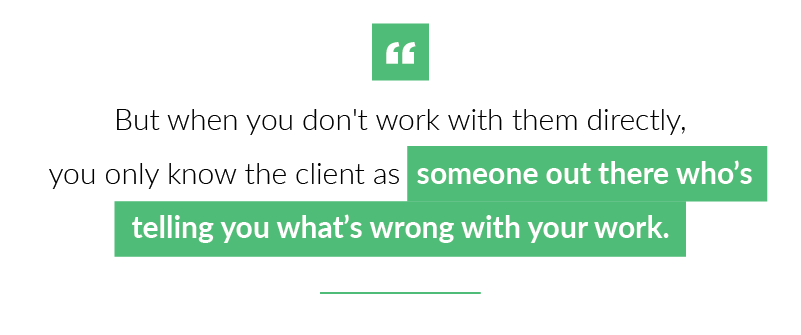 "The tone and the passion that the client puts behind a word or a description is important," adds Emily Bliss, one of Silverback's senior content marketing managers. "If they use the word 'sophisticated' or the word 'edgy,' for example, they may mean very different things that you miss when you're not getting the full context of the creative conversation."
We let our creatives talk to the client. In fact, all of our managers — performance or creative — talk to the client. The conversations directly between the creative and the client reduce ambiguity, create additional excitement at both the agency and partner level and allow all of us to proceed with a shared vision.
This process organically includes our search and social specialists in the conversation, allowing client, creative, and performance experts to work together to plot strategies and campaigns that are geared towards achieving very specific goals much more effectively.
"At the end of the day, we're all experts in our own field here (at Silverback)," Senior Content Marketing Manager Courtney Voegele says. "As the creative experts, we're going to have the most enthusiasm about what we do on the creative side. When that goes through a middleman, that passion gets lost. We believe that we're able to get the client excited about the creative opportunity, and we value the chance to do that."
2. We advocate for great creative.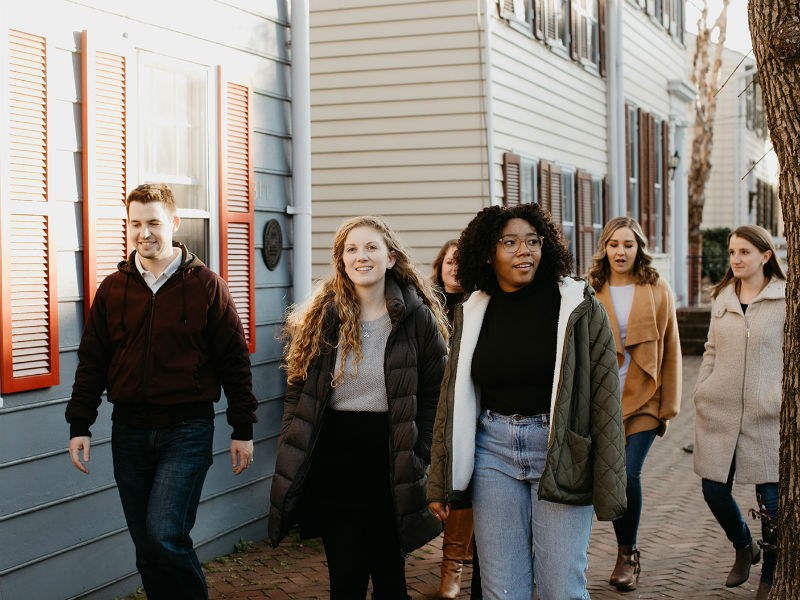 Advocating for great creative is really advocating for the audience, or, if you want to look at it in terms of commerce, the customer — people are not online to be annoyed by a bunch of bad ads.
Brand creative that provides access, information or opportunities that capture attention in a meaningful way may be interruptive in nature but, when well-executed, are part of the total online experience.
And the ad platforms understand this.
"Platforms like Google and Facebook are increasingly rewarding high-quality creative," says Louis Belpaire, director of paid media and analytics at Silverback. "As lookalike modeling and fully automated bidding solutions improve, creative quality and relevance become an important lever that performance agencies can use to further optimize campaign success."
Advocating for great creative is also a solid vote of confidence for the people on your creative team. You're putting your money where your mouth is, promising clients that your people have the chops to deliver the goods that will enhance the performance that they're purchasing in search and social campaigns.
Plus — from a personal development standpoint — quality creatives want to be someplace where they can do good work.
"We all are very invested in our work at Silverback," Ms. Condon says. "We have high standards for our work as an agency, in general, and when a client makes that investment in our creative work, on a personal level, we feel like they're investing in us, too."
3. We establish clear lines of communication between creative and performance managers.
Ambiguity ruins everything. Ambiguity keeps people from doing their best work, from meeting deadlines, from building trust.
People who are not completely sure of expectations tend to set their own, and there's a real risk that those self-goals will be out of alignment with the greater team goals.
Silverback works to eliminate ambiguity through communication.
It sounds so simple! Just as our managers are expected to communicate directly with their clients, they are also expected to communicate closely with each other.
Any given client at Silverback may have anywhere from a couple to several account managers on their account. There may be a paid media, organic search and content marketing manager assigned to a single client.
That same client may work with a designer and a developer. There may be support personnel behind the scenes providing even more service.
How do we keep everyone on the same page? We are heavy Slack, Basecamp and Google users. We expect our team members to meet regularly to discuss client issues.
"We try to keep those clear lines of communication as open as possible," notes Kurt Lambert, Silverback's vice president, SEO. "Having the structured times to talk about the client, the project, the deliverables — making sure that everything that we're doing is moving in the direction of the client's goals — is part of our structure.
"But at the same time, we also want to make sure that the account managers have their own space and freedom to put their stamp on the strategy and get creative with different ideas. This is especially important because, as an agency, we work with clients in various industries and verticals (and with) different kinds of engagements."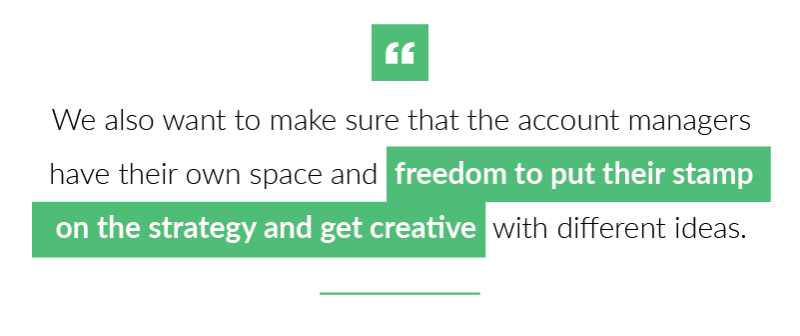 Introducing Editorial SEO
Silverback doubled down on internal collaboration between creatives and performance managers, recently refocusing our organic search product into a new offering we call Editorial SEO.
An Editorial SEO offering provides tremendous organic search growth for clients at a faster speed because we can accelerate the technical and creative aspects of an SEO engagement more efficiently.
Working in this kind of performance environment may be new for creatives. That's another reason why clarity is so important — it reduces anxiety and discomfort among professionals who may not have thought in terms of strict performance in the past.
"We'll make clear those pieces that need to be incorporated to make creative more performance-driven," Silverback's Director of Client Services Carissa McStay explains. "For example, let's say we need ad banners. I would mention what the CTA needs to be, or that we tend to see better performance when there's a certain kind of button copy. Those are pretty simple examples, but that's the type of insight we want to share with creatives to ensure that we're all on the same page."
4. We establish places where creatives can be creative.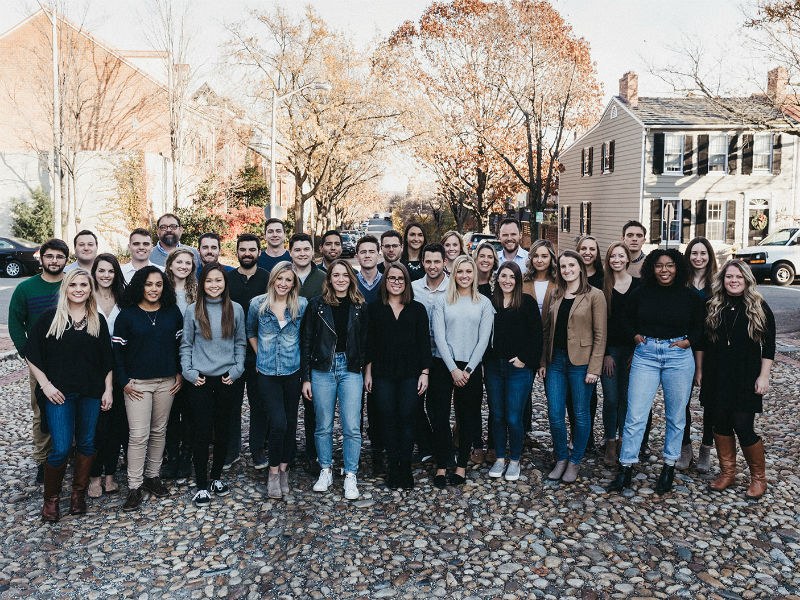 This may seem obvious, but sometimes creative professionals need to have places to go where they can be, well, creative. Open offices aren't always great for deep thoughts and colorful ideas, especially when surrounded by 30 or 40 people who are taking calls, finishing last-minute reports and digging diligently through reams of research.
Do your creatives have breakout rooms where they can talk, laugh, debate and even argue with each other? Do they have access to whiteboards and big screens? Can they roll around on the floor if they want to? Close their eyes and meditate?
Brainstorming and ideation sessions aren't the same as popping into a half-hour meeting and walking out with a list of deliverables.
When creatives are forced to work in those types of conditions — alright, that's a little dramatic — when creatives work like product managers, the work can reflect the rigidity of the environment.
5. We let our creatives take full advantage of the fact that they get to work with performance experts.
There may be a stereotype of a creative — whether designer, writer, developer, etc. — as a somewhat frivolous soul whose love of "the work" can supercede performance. Not that the creative doesn't care — it's just that he or she can fall in love with an idea, and want to stick to that concept come hell or high water.
We've found that our creatives, once given the opportunity, love to work in close alignment with Silverback's performance experts. As an artist, it's gratifying to know that your work is reaching millions of digital customers, and the data our search and social specialists can provide helps us to hone our creative more precisely with each campaign.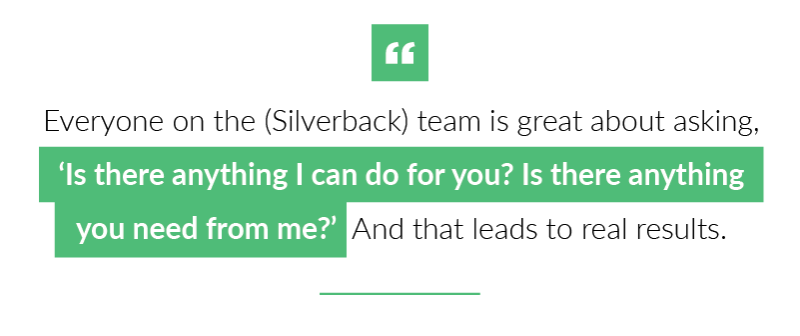 "We're all working to achieve the same goal," Ms. Voegele says. "And everyone on the (Silverback) team is great about asking, 'Is there anything I can do for you? Is there anything you need from me?' And that leads to real results."
Knowing that our work is helping a campaign thrive is a huge win for our creatives.
"At the end of the day, we're telling a story," Ms. Bliss says. "And when you know that story connected, that's the best feeling because it's usually a total team effort."