Back in the advertising heyday of the '60s, David Ogilvy warned copywriters not to skimp on the headline.
"On the average," he is quoted, "Five times as many people read the headline as read the body copy. When you have written your headline, you have spent eighty cents out of your dollar."
Whether you're blogging for brand awareness, leads, sales, or something in between, getting your blog post read is the first and most important step. Search engine optimization is great way to funnel an attentive audience to your posts, but it's easy to make the mistake of over-optimizing for search engines and under-optimizing for actual human readers.
SEO is only half the battle — clickability and readability are crucial to getting users to move from search engine results page (SERP) to your website. Clickable blog titles drive more traffic, even from non-search sources (paid, email, social), which in turn signals to Google that an article is worth reading.
Like most things in marketing, headline writing is one part art, one part science, and one part process. Here's the process I use to write headlines that please people as much as they do search engines:
1. Brainstorm possible keywords.
Effective keyword research is integral to any SEO strategy, and blog headlines are no different. These need to be keywords that if someone typed them in and found your content, your content would answer the need they're expressing. You'll want to research a combination of head terms and long tail keyword phrases.
One easy way to guess at potential long-tail keyword phrases is to take your cue from Google. When you search for your head term, what phrases does Google guess? What searches does it suggest you conduct next? These suggestions are based on other users' behavior and can serve as a good clue for what people might type in.

What searches does it suggest you conduct next? These suggestions are based on other users' behavior and can serve as a good clue for what people might type in.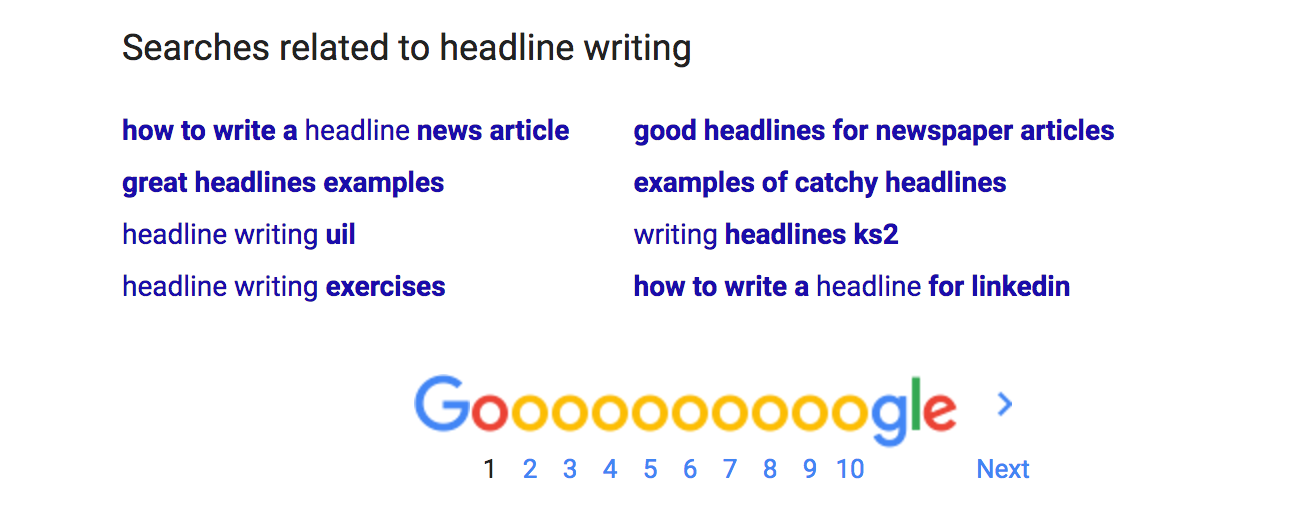 Once you've written down a list of possible keywords and keyword phrases, you want to identify the ones that are both worth going after (i.e. have a high volume of traffic) and that you have a good chance of ranking for (low competition), which leads us to the next step...
2. Identify the target keywords.
Look for data on search volume and competition, but also look for other indicators of opportunity.
Does the current SERP have a featured snippet, or is that area up for grabs?
Are there a local results?
Are reviews included on the SERP?
If you're already tracking any keywords in SEMRush or Moz, it's also helpful to check in on what you're already ranking for (after all, there's no point competing with yourself). If you have it set up, Google Search Console can also helps identify SEO opportunities.
For more on identifying the right keyword, read Choosing The Perfect Keyword For SEO.
3. Write several headline options per post.
I generally write my post first, letting the keyword drive the on-page SEO, and leave headline writing for last, but some choose to decide on a catchy headline first and then write a post to fit it. Whichever option you choose, you want to write a bunch of options to see what you come up with. Ogilvy said his most famous headline took him 104 different drafts to write. I'm not saying you have to write hundreds of options, but the headline is important enough to deserve a chunk of your time.
This honestly comes down to headline writing formulas more often than I care to admit. Google "headline swipe files" and you'll find some common headline writing formulas that work well. BuzzSumo has written some great articles on which headline phrases get the most social shares from B2C and B2B audiences, and HubSpot's blog topic generator is a favorite for getting the juices flowing. For instance, for the head term "headline writing," the topic generator spat out this: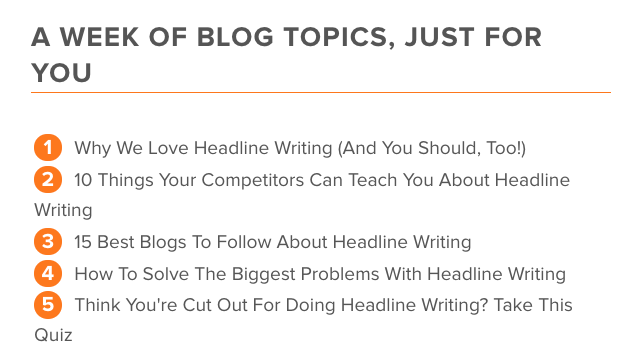 4. Choose a headline.
At this point, you've got several good headline options, they all include your target keyword, and it's time to choose one to launch your content into the world.
To give myself some parameters for this, I like to use CoSchedule's Free Headline Analyzer tool. It gives each headline a score based on common headline types, character count, word type balance, etc. It's not foolproof, but it's useful. Generally, I aim for 75 or higher and throw out anything less than a 60.
What makes a great headline? Since headlines are only as good as your users think they are, the rules are always changing, but here are a few constants.
Great headlines...
Make people feel something.
People engage with content that inspires strong emotions, both positive and negative. Engagement helps your content spread and gives busy readers a reason to stop and pay attention.
Set the right expectations.
Many publishers use "clickbait" headlines to inspire people to click out of curiosity, but in the long run, this tactic can be harmful for rankings and reach. Due to negative user feedback, Facebook and Google have more or less declared war against clickbait. When clickbait brings people to your site, it typically results in high bounce rates — a metric that indicates low quality content to both networks. A better tactic is to be honest with your readers to build trust and set expectations about what they will find when they click through.
Keep it simple.
Use plain language and as few words as possible to get your point across without losing people's attention or getting cut off by mobile views.
Follow proven headline writing formulas.
If it ain't broke, don't fix it. Of course you want to put your own spin on anything you write (and never, ever plagiarize), but great headline writers rarely start completely from scratch. Here are 13 blog headline examples to get you started.
Headline Writing for Readers and Rankings
Whatever you do, don't let your headlines be an afterthought. In today's content-soaked world, readers have a million options (and just as many distractions). Your headline has to give them a reason to choose your article over every other option, whether those options appear on a SERP or on their Facebook Feed. Different digital marketing tactics no longer exist in silos, so your headline has to work harder than ever before. Use the tips and tricks above to stand out to readers without losing search value.