This is actually pretty funny:
You're probably familiar with Genius, the website that provides lyrics to just about every song ever. The team at Genius noticed that Google appeared to be scraping its content for use in its own Featured Snippets — you know, the box that appears on the search engine results page (SERP) when you type something like "Old Town Road lyrics" into the Google search bar.
The problem? No attribution. No link to the Genius site. Google was answering the user's query itself with content that belonged to Genius — the same "borrowing without asking" trick your college roommate pulled when sweaters disappeared from your closet.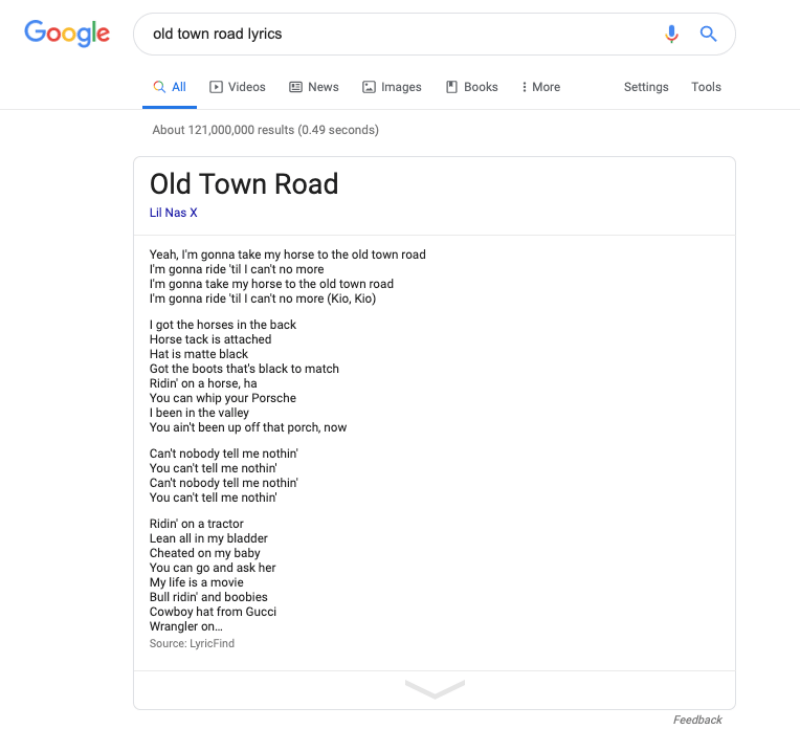 Now wait, you may be saying, those lyrics are out there — maybe Google is building out its own lyrics service, or scraping them from another lyrics provider. Shady, sure, but not necessarily a Genius problem.

Here's the funny part. According to Slate.com, Genius added specific types of apostrophes to its lyric content to see if those apostrophes would show up in Google. They did.

The kicker? "Genius," wrote Slate's April Glazer, "says it ordered the different apostrophes in such a way that when the two styles are converted to dots and dashes they spell out 'red-handed' in Morse code." That is rich.
Not quite as amusing: Genius filed a complaint with the U.S. Department of Justice. You'll note that Google now has linked attribution to its lyric sources — in the case of "Old Town Road," our example above, a link to LyricFind.
The Ubiquity of Google (and Google's SERP Features)
"Google will own the entire customer journey in the future," Jessica Bowman of Search Engine Land told the crowd at SMX Advanced 2019. Google, she explained, is "becoming less search engine, more portal" — a place to get answers, not just get directions to what might be an answer.
This creates a bit of a paradox for search marketers.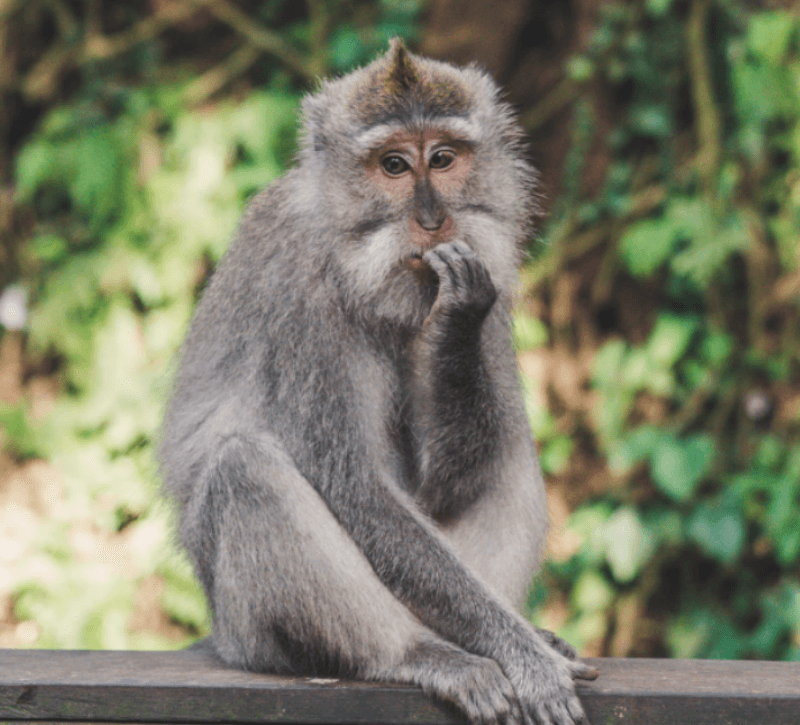 Because of Google's increasing reliance on SERP features — which, to be clear, are "any result on a Google SERP that is not a traditional organic result," as defined by Moz.com, meaning anything from Ads to Maps to Twitter to Knowledge Boxes or any of the other dozen or so "non-traditional" results Google has and continues to introduce — it's more important than ever to claim those features for your brand.

Claiming those features, however, does not necessarily mean you're pushing traffic to your own pages because the user may get what she needs right there on the SERP.
"The rise of new SERP features and the growing number of no-click results have definitely caused us to adapt our strategic planning with clients," says Kurt Lambert, VP, SEO at Silverback. "Previously, SEO was much more straightforward with the path to success: analyze individual keywords and improve rankings, which would incrementally lead to more organic traffic, and ultimately more organic conversions. Rinse and repeat."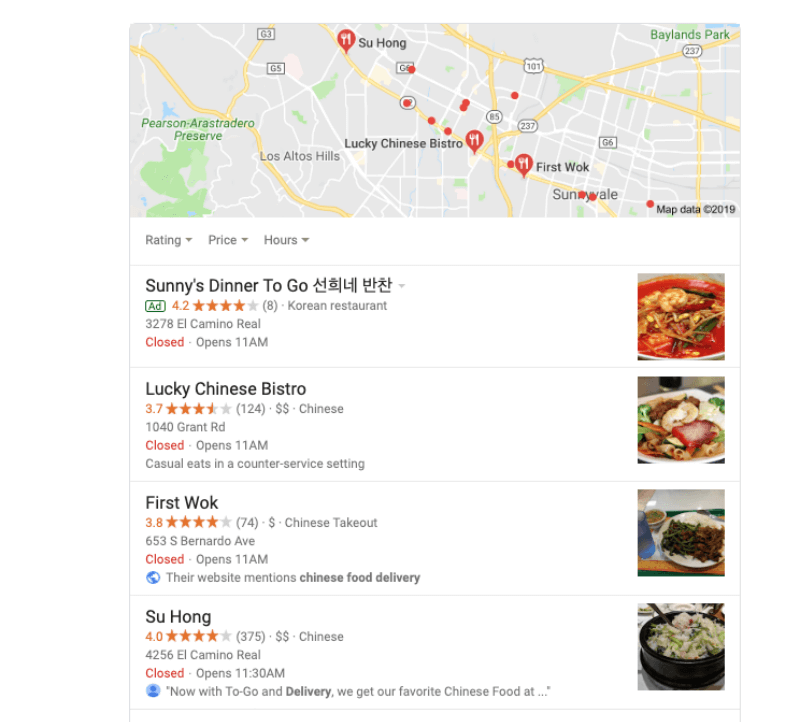 Things, Kurt notes, and you have probably seen yourself, have changed rather dramatically.

"These days, there are so many more variables that go into an organic strategy, which causes us to ask a lot more questions when building a campaign to make sure we have the right approach from the outset," Kurt continues. "What are the prominent SERP features that tend to appear for a wide array of industry searches? What kinds of audiences would be finding those features? Who are the main players that have dominated this industry? How much share of voice do they actually have? Would our website have the right mix of content, authority and technical capabilities to make a dent in this share of voice and take advantage of these features, or would we be looking at a longer-term campaign to achieve noticeable success?"
Even answering those questions, however, is really only the first step in a more complicated process that requires identification of new, relevant SERP features and content buildout that allows our clients to compete for those spots.
"The extremely dynamic nature of the landscape means we can't really ever take our foot off the gas pedal," Kurt says. "We constantly keep an eye on the SERP results for each industry. On a daily basis, new questions are being asked that Google tries to provide answers for — and we want to be the ones that can remain ahead of the pack and give them that information in the right format."
Different SERP Features for Different Search Terms — That's the Reality
Let's add one more curveball to the mix — the fact that SERP features are neither universal (every feature does not appear with every result) nor do they remain static. It's a game that requires constant vigilance.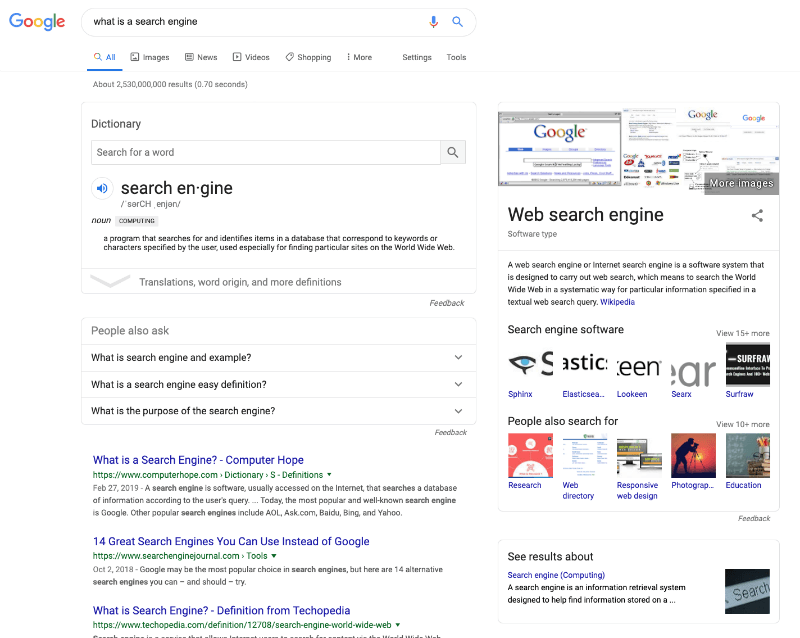 "The types of SERP features are certainly evolving over time," Kurt says. "For example, perhaps more organic video results are starting to be served in an industry that we need to be aware of and potentially adjust our strategy for down the road. In some cases, maybe there is a new SERP feature that hasn't even rolled out yet, but quickly becomes prominent.

"If we're able to jump on it right away and reverse engineer the requirements needed to claim those features, it gives us a huge advantage over the rest of the industry."

Identifying SERP Feature Opportunities for Clients
Search is essentially limitless. Client keyword programs can include dozens, or even hundreds, of relevant search terms. Identifying opportunities where our clients can earn that "Position Zero" spot in a Knowledge Box or move higher in the local map pack requires tools and strategy.
"SERP features have become more and more common, so it's important to ensure that the opportunity makes sense for the client," Mat Ingham, a senior SEO manager at Silverback, explains. "Once it's been determined that the opportunity is relevant, we analyze whether or not we have a realistic shot at landing that featured position. This analysis takes into consideration items such as existing content, domain authority, current ranking, as well as who currently owns the featured position."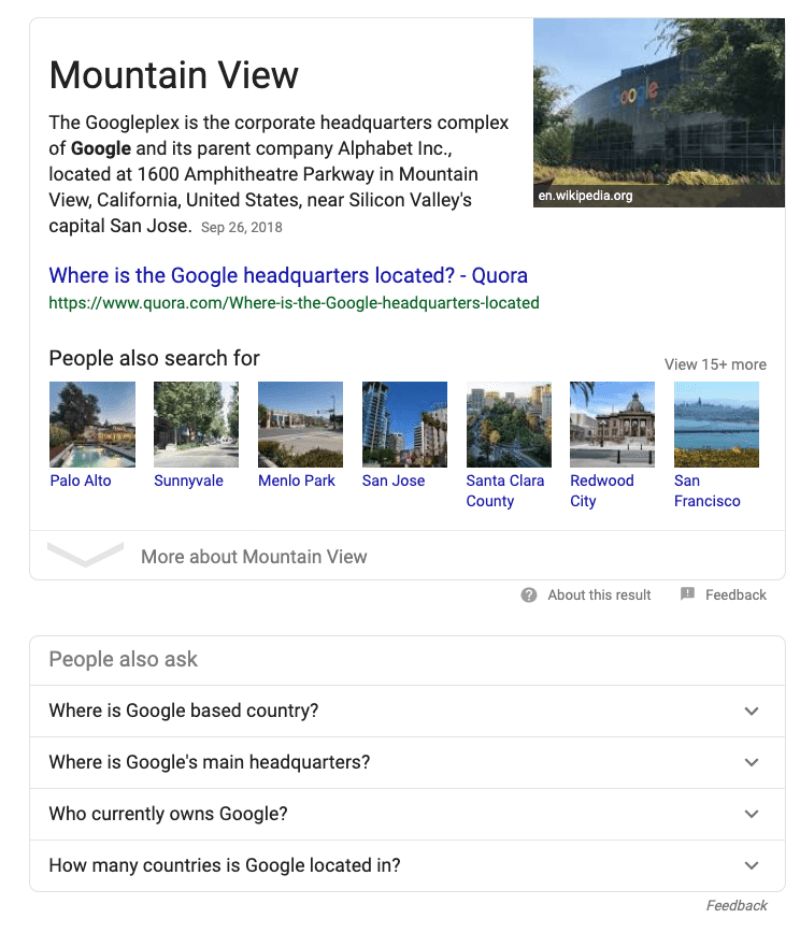 It also means we have to be realistic. There are some SERP features for specific search terms that may be out of reach for some clients.

"If extremely authoritative websites own the feature with extremely relevant content that's structured properly, it's highly unlikely that we'll be able to take it over and not worth the time and effort," Mat admits. "However if it's been determined that we have the necessary authority and content to own the feature, we'll begin to put a strategy together."
Answering the SERP Feature Paradox
Here's where that paradox comes into play again: SEO legend Rand Fishkin ran a Google clickstream analysis in conjunction with the marketing analytics experts at Jumpshot that purportedly shows 49% of all U.S. searches in Q1 2019 ended without a click. That's up 12% from 2016, as reported by Search Engine Land.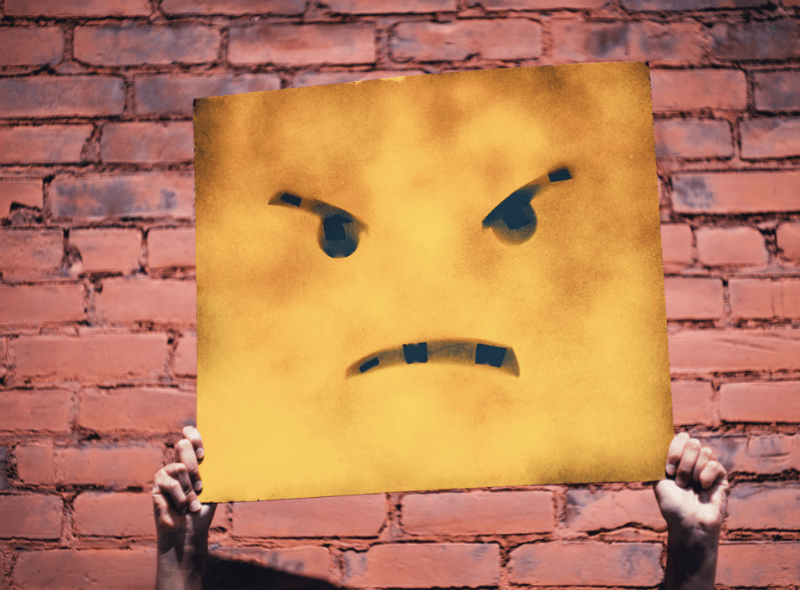 So yes, it's great to get branded content into a SERP feature, but if Google gets the benefit, what good does it do you? It's not like your brand is going to quit Google.

There's a strategy for that, according to Mat.
"Before newer SERP features began to roll out, there were a number of studies that showed click through rates increased when a user came across a paid search ad and an organic listing for a brand," he says. "It was determined that the user found those business more trustworthy. The same can be said for SERP features and organic listings. By landing a Featured Snippet or a position in the People Also Ask feature, for example, businesses are presented an opportunity to have their website listed multiple times within the search results for a single term. Users will consider the business to be more trustworthy, and, potentially, even a thought leader."

In other words, don't get too hung up on the short-term result. You may not get that specific click — but you may end up with the sale. Metrics like search visibility and search volume suddenly get much more important.
Voice Search and SERP Features
Here was some huge news from SMX Advanced, as reported by Henry Powderly of Search Engine Land:
"A new study has found 80% of the answers delivered by Google's voice assistant came from the three top results in search engine results pages. Even more, 60% of the results came from featured snippets and 70% overall came from SERP features," Powderly wrote. "In addition to correlating voice results with SERP, SEMrush found a common link between answer length (around 42 words) and use as a voice result."
That's great information — sort of. SEMrush also found that 36% of voice results had no Schema implementation, which is a bit of a shock. Backlink anchors and relevant title keywords appeared, unsurprisingly, to be key contributors to voice search rank.

So the good news for SEOs seems to be that best practices also work for voice. And that, according to Silverback's Amy Goffe, makes sense.
"I think our approach to SERP results has not changed too much in regards to voice search," Amy says. "Right now, we don't have the reporting tools or data providing us with specific voice search insights, so I think it's difficult for SEOs to generate full-fledged search campaigns and strategies that specifically center around voice search. Our SEO strategies can stay effective when we focus on obtaining the first 1-2 organic positions, featured snippets, answer box or people also ask features."
Which is not to say, she adds, that it's just business as usual as the industry evolves around us.
"SEOs, however, are becoming more strategic in keyword targeting in general," Amy adds. "Voice search is not the main driver of these efforts but could be (again) an added bonus to effective targeting. The majority of new opportunities identified to rank for featured snippets come from long-tail, question-based keywords. When thinking about voice search, most users are asking similar questions to their voice assistant as they might type into Google search — so as SEOs start to build targetings strategies for these long tail keywords through perhaps an Editorial SEO strategy, we are in a sense targeting voice search as well."
So How Do We Feel About SERP Features?
"As a marketer, I have mixed feelings," Amy says. "While we may feel robbed that Google is taking click and web traffic from our site, I think there are potentially positive opportunities to improve the customer's user experience with your brand that may come with having Google engage in this process."
That's a great point. Google owns the SERP, and we, as marketers, are obliged to play by Google's rules — so long as Google is not flat-out stealing content ("red-handed," hahah). That's when Justice Department complaints pop up, and it's safe to say that Google does not want to unnecessarily tweak the Justice Department at this particular moment in time.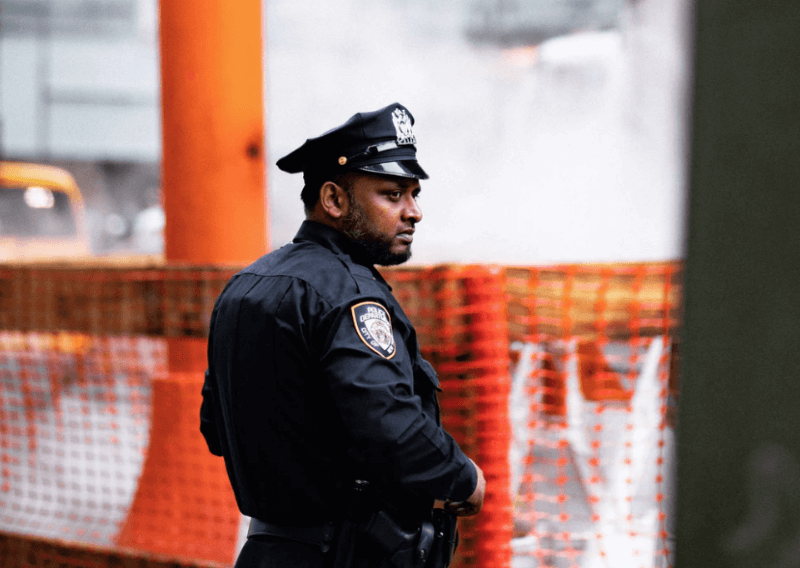 So let's assume(!) Google is not going to (always!) use (finger quotes) unattributed content in its SERP features. Even with that link, where does that leave us?

It goes back to the importance of best SEO practices. Do the job the right way (solid technical foundation, great content, strong audience, legit backlinks), and results — as even Google has said over the years — should follow.
"A common theme we've seen Google preach over the past year is for businesses to provide the best user experience possible: through your website, ads, customer service, etc.," Amy remarks. "If Google wants to own more of the customer journey and ensure customers are provided with a seamless, positive experience while still allowing the organization to gain the customer's business at the bottom line, then why not let Google do some of the heavy lifting — with the understanding that this might apply to some industries more than others.

"On the other hand, giving up the control — and seeing your web traffic decline — is discouraging," Amy continues. "But each month, we now rely more and more on Google tools and data to help illustrate the full picture of our client's performance in search outside of just website traffic. SERP 'wins' are now coming in all shapes and sizes at every level of the customer journey funnel."

Kurt is on the same page. Historically, he explains, a website was viewed as the only vehicle that could drive organic search performance for a brand. There are now many more interactions that can stem from non-paid organic searches that happen along a customer's journey.
"In a way, 'search engine optimization' is becoming more about optimizing a brand into every nook and cranny that Google has for a brand's industry, with website optimization for the standard organic listings still a major part of the process, of course," Kurt concludes. "A brand's SEO goals should be understanding exactly what kinds of organic interactions might take place at every step of the customer journey, and making sure they have the proper strategy to take full advantage of those interactions in hopes of moving users along in that journey — whether it's in the form of a traditional website session or by having maximum exposure somewhere in Google's ecosystem."
Let Us Help You Improve Your Search Marketing Program.
Silverback can you disentangle the complicated world of search marketing — from paid and organic search to content and creative to data and analytics. You don't have to do this alone. Contact us today.