It feels like Christmas in April for B2B marketers. After years of waiting, LinkedIn has rolled out a number of significant new advertising tools all at once. These new features include:
Lead Gen Forms that allow advertisers to collect user info in LinkedIn's platform
Matched Audiences that provide remarketing and email list targeting capabilities
CRM integration
Each of these tools can play a vital role in improving your current LinkedIn efforts — or could serve as the reason to finally start running LinkedIn Sponsored Updates.
What do LinkedIn Lead Gen Forms do?
LinkedIn's Lead Gen Forms have huge implications for lead-generating marketing campaigns. This new variation of sponsored content campaigns allows users to convert with just a few taps — and without having to leave LinkedIn's interface.
After interacting with an ad, users are instructed to submit a pre-populated form (advertisers can require up to seven fields) and, after a simple click, are recorded as a lead.
As the online landscape continues to move towards mobile, this format could prove to be a game-changer when it comes to capturing those ever-elusive mobile form fills. LinkedIn's Lead Gen Forms make it as easy as possible for mobile users to convert, and can solve the issue of a landing page or form that is not mobile optimized.
This feature is a no-brainer for any B2B or lead-gen focused marketing campaign targeting qualified business professionals. While Facebook's similar lead ad feature has typically resulted in an improvement in conversions rates, LinkedIn's Lead Gen forms offer extensive professional targeting that eliminates objections about lead quality.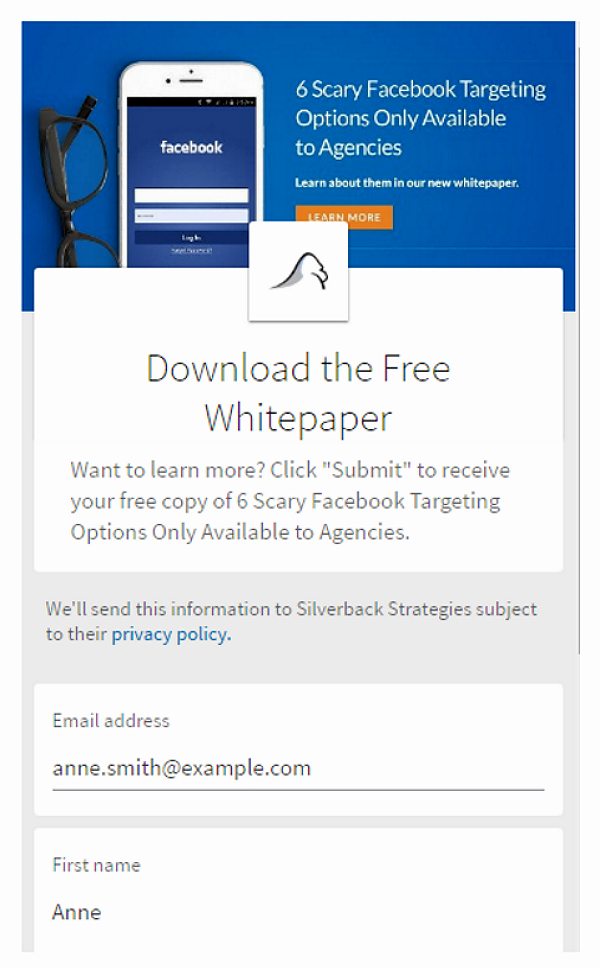 LinkedIn's Matched Audiences
Linkedin Matched Audiences provide a new way to reach lower-funnel prospects. LinkedIn was always a great tool at finding qualified business professionals, but has fallen short when it comes to identifying individuals with purchase intentions. These new targeting features are the first step towards finding the sweet spot of qualified prospects that are ready to buy.
LinkedIn Sponsored Updates' cost per click is among the highest among social ad platforms. We expect these new targeting methods to help improve return on investment from LinkedIn marketing efforts.
The Matched Audiences tool introduces three new targeting strategies on LinkedIn:
Website Retargeting. Website Retargeting allows Linkedin advertisers to segment certain site visitors and tailor specific ad messages towards them based on the pages they visited. This new method could work well targeting qualified LinkedIn users who have already engaged with your brand online. For example, you could send a Sponsored InMail offering a product demo to LinkedIn users who have downloaded a content asset, but haven't yet expressed interest in your product offering.
Account Targeting. Account Targeting gives advertisers the ability to upload lists of target company accounts in order to expand their account-based marketing efforts to the LinkedIn platform. As long as these lists reach a minimum of 300 matched members, advertisers are able to add this targeting into their campaigns. Combining target company data with LinkedIn's data on seniority, job title or job function could provide a powerful marketing campaign targeted towards key decision makers from valuable target accounts.
Contact Targeting. Contact Targeting lets advertisers build custom audiences of current email contacts in order to effectively target LinkedIn Sponsored Updates to their LinkedIn profiles. This can be utilized as an expansion of current marketing automation efforts in targeting current customers or leads. CSV lists can be manually uploaded, or LinkedIn offers the ability to integrate with third party CRM softwares such as Marketo and Eloqua.
Pushing LinkedIn Form leads to a CRM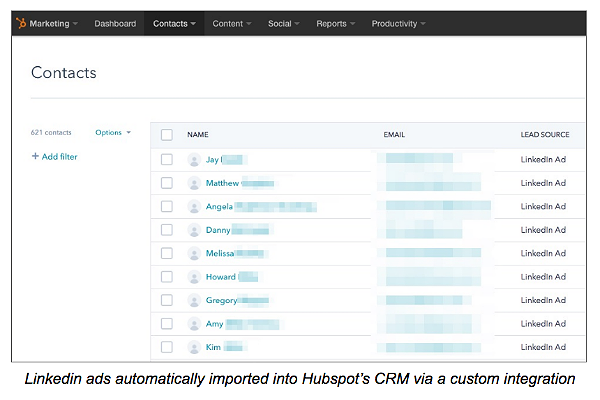 LinkedIn provides several useful metrics, such as form fill rates or cost per lead, in order to optimize ad performance. However, understanding the quality of the leads and following up with these leads will be tricky for some marketers until they are able to integrate this innovative ad format with their CRM.
LinkedIn leads currently have to be exported from the LinkedIn ads account and manually added to a CRM. Silverback has found a workaround that consists in fetching the lead information directly from the LinkedIn API and pushing it to the CRM.
There are several benefits:
When promoting a content asset, leads can receive their download much quicker
Leads are automatically added to a marketing automation workflow
Additional fields such as "company name" or "job title" can be passed to the CRM
LinkedIn is actively working on integrating its Lead Gen Form with the most popular CRMs (Salesforce, Marketo, etc.). We have even heard rumors of an official Hubspot integration for Q3 2017.
Pulling contact lists into LinkedIn's ad platform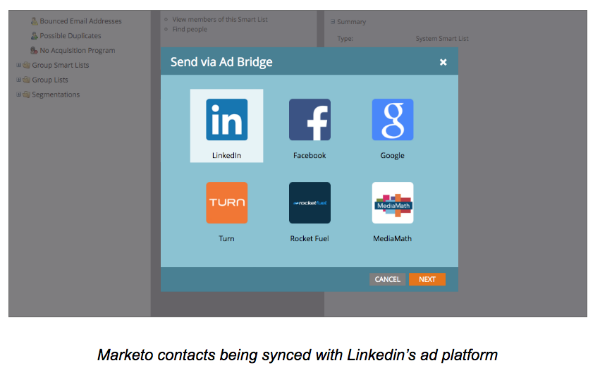 LinkedIn has moved quicker here than with Lead Ad integration. Contact lists from Marketo, Oracle and Salesforce can already be synced with the LinkedIn ads platform, as they are being collected by the CRM. from LinkedIn Sponsored Updates.

How can you use LinkedIn Sponsored Updates?
By adding Lead Gen Forms, Matched Audiences, and CRM Integrations, LinkedIn has dramatically improved their platforms overnight. Advertisers are ecstatic at the opportunity these features offer in the immediate future, and are optimistic that these won't be the last upgrades LinkedIn makes this year.
If you'd like to learn more about the opportunities these features present and how best to leverage them please contact us or leave a note in the Comments below.