GoDaddy has mostly been known in the past for the artistic and wholesome quality of their Super Bowl commercials, but they are also the world's largest provider of domain names. Over the past 6 months, however, they have made some internal shakeups and brought in a new CEO. They have apparently shifted their business strategies as well, as they are featuring other offerings like their website builder and online marketing services more so than they ever have.
Sure, other large domain name and web hosting providers have thrown their hats in the online marketing game as well. Network Solutions even went as far as branding their online marketing with a Gorilla (where did they get such an idea!?). At least they have the smarts to feature various plans that are hundreds of dollars (even though it is outsourced).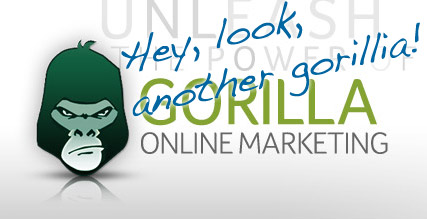 GoDaddy takes this ridiculousness one step further. Not only are they trying their hand at SEO (and PPC for that matter), they are doing it for a grand total of…$2.99 per month! Yes, the decimal point is in the correct place, it really is two dollars and ninety nine cents. I guess that means game over for everyone else, right?
What exactly does that $2.99 get you? Well, it can get you a coffee at Starbucks, possibly a beer during happy hour, and apparently now SEO. Let's see what GoDaddy lists on their website as "SEO":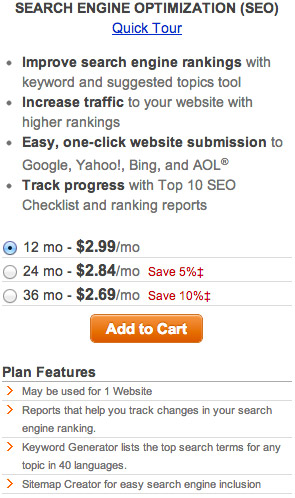 Improve search engine rankings with keyword and suggested topics tool? How brilliant! Increase traffic to your website with higher rankings? You don't say! How has no one thought of this before? GoDaddy is really changing the game here.
What this really comes down to is the fact that SEO is seemingly becoming such a trendy buzzword these days, so everyone is trying to hop on the train and capitalize of it. Throwing the words "SEO" and "PPC" on a website does not exactly make a company an expert, no matter how large it is. I'm sure it is certainly easy for GoDaddy to take advantage of their large customer base and convince small business owners to sign up. However, when companies assume they can be successful at online marketing without any kind of experience, they inevitably make their customers feel ripped off and unhappy. That gives the entire online marketing industry a bad name. Let people use your company for what you're good at, like registering domains. Let people use companies like us for what we're good at (because after all, it's kind of all we do), SEO and PPC.