While it's easy to get caught up in the over 200 ranking factors in Google's algorithm, the key to long-term SEO success is actually pretty straightforward: write content that people want to read.
As a society, we trust Google to serve us accurate information — whether that's the best coffee near me, how to sand a table, or the latest news.
Consider these data points: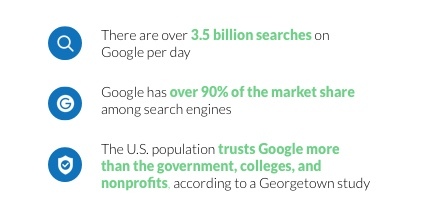 In order to keep this invaluable user base and trust, Google has to ensure it is delivering accurate search information. As its algorithm continues to evolve, Google has placed increased emphasis on quality content as the key to organic success.

What Does Google Mean By "Quality Content?"
When someone conducts a search, Google uses it algorithm to almost instantly surface millions of results.
One of the ways Google constantly improves that algorithm is by having real human beings conduct searches and assign quality scores to the results returned. These people are called search quality raters.
While Google is secretive about the algorithm itself, Google does release its search quality rating guidelines, which offers us a glimpse into how Google evaluates content quality.
In its most recent update, Google's content rating guidelines placed a larger emphasis on E-A-T: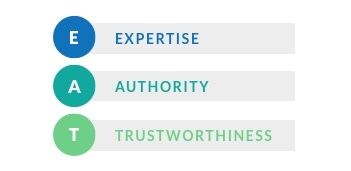 While Google does look at signals like external links, author bylines and company accolades when determining E-A-T, a deep look is also taken at the content you have on your site.

Proving to Google that your business is a trustworthy, authoritative expert via content is no easy feat. It requires a lot of resources and a hefty side of patience.
So, rather than cranking out a ton of content in hopes something will stick, it's important to take the time to develop a comprehensive strategy.
How to Create Quality Content That Performs
Step 1: Define Your Expert Topics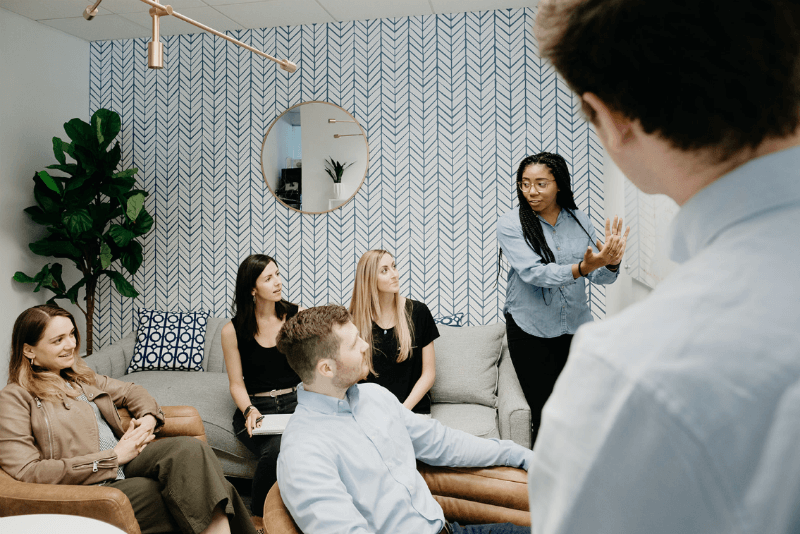 Creating a strategic plan starts with the topics you want to be an expert on in the eyes of users, and, therefore, in the eyes of Google.
The best place to start is your most important products and services. It's better to start with a core group of three to five topics and then to expand down the line. This will help ensure your content is not spread too thin and allows you to gain traction on the initial topics more quickly before expanding to secondary topics.
Step 2: Identify Your Content Gaps
Once you set your priorities, it's time to evaluate what content you currently have on your site and determine if there are any gaps in information a user would want or need when researching that product or service.
For example, if you are an online school, you most likely have pages on the degrees you offer. That's great.
But what about potential prospects who are still deciding if they want to get a degree, or if an online school is even right for them? Do you have content that answers their questions and then gives them the option to learn more about those degree programs?
Often, during this analysis, we discover that while sites may have pages for bottom-of-the-funnel users (like, in the example of the online school, those searching for an online MBA program), they don't have enough content for users who are in the research process.
This gap is a missed opportunity to get in front of potential prospects. It also makes ranking for your most important product and service keywords more difficult.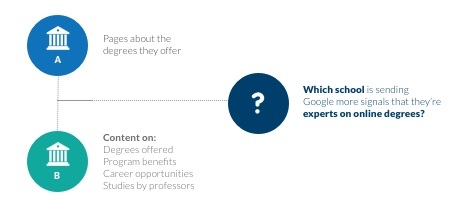 Let's go back to our example of an online school and say School A only has pages about the degrees they offer. School B, on the other hand, has a wealth of content around the benefits of degrees, career opportunities for each degree type, studies by the school's professors — all in addition to pages about the degrees they offer.

Which site is sending Google more signals that they are experts on online degrees? If you are thinking school B, you are correct.
Step 3: Map Out & Write the Content
Now that you understand the type of content you need, the next step is to map out your content topics based on thorough SEO research. Having an SEO expert lead this process will help you maximize your content visibility as they can research user intent around any given topic and advise how to optimize for key Google SERP features like featured snippets, which are often read in voice search.
Step 4: Measure & Optimize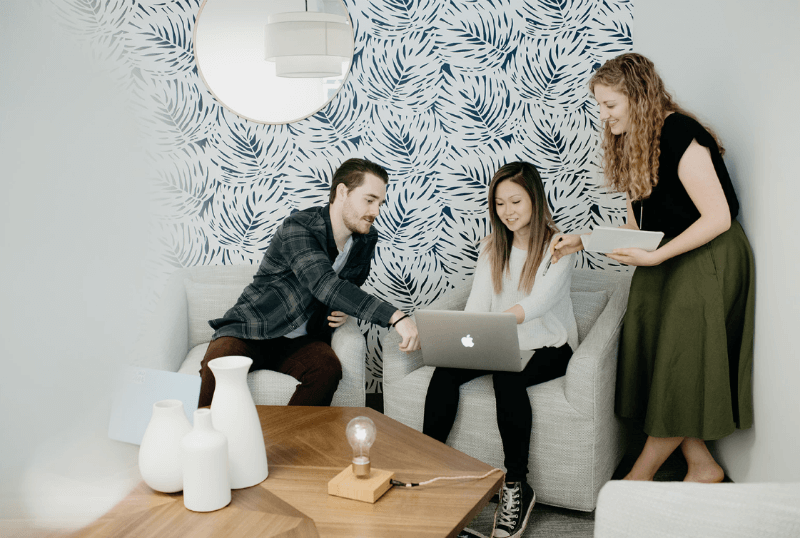 Unfortunately you can't just produce content and assume eyeballs will come. Properly tracking and measuring how your new content is performing, and making adjustments where needed, is key to having long-term success and ensuring the longevity of all your hard work.
Achieving Long-Term SEO Success
Here at Silverback, our team of content and SEO experts work hand-in-hand throughout this process to achieve growth for our clients. We call this hybrid approach Editorial SEO.
We recently employed this tactic for a client that was having trouble getting organic traction around their priority grant topics. Our SEO and content team worked closely together to identify a need for more content for users researching sub-issues within those topics and to determine which exact pieces of content were needed to fulfill that gap.
The content written was fully optimized for SEO and was centered around what questions people also around each of those grant topics.
This approach led to an 877% increase in organic traffic YoY to grant topic pages, with no signs of slowing down.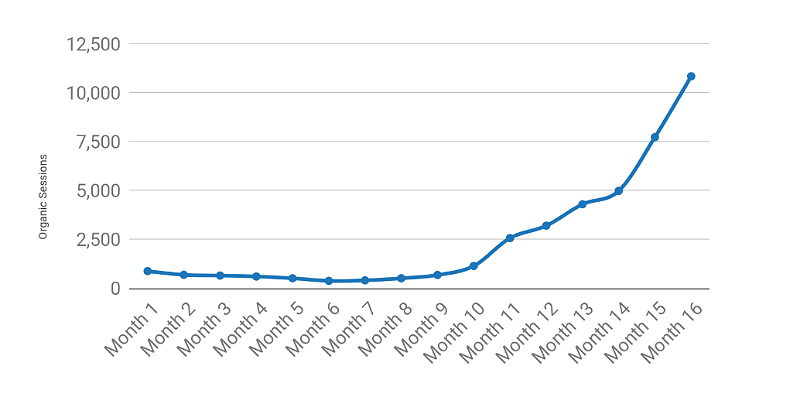 Learn more about how to grow your organic visibility. Contact us today.