Something's going down in the way Google presents AdWords results on its organic search engine results pages (SERPs).
According to our insider at Google, the search giant is phasing out the text ads on the right hand side of organic SERPs while adding -- or experimenting with adding -- more paid results to the ad stack at the top of any given search page. The change is being made, we are told, to align the number of ads shown in desktop and tablet search results. Google Shopping results will continue to appear on the right rail.
Here's an example of the new SERP we've been seeing: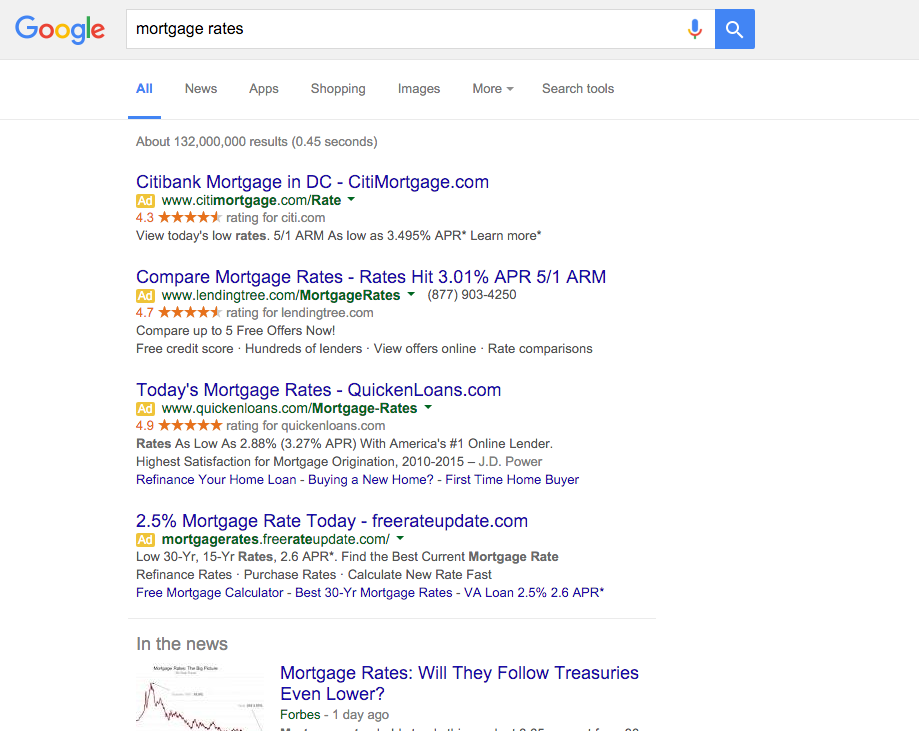 And, if one is to believe Redditors who claim to have their own inside info (and the conversations on the original and supporting subthreads on the /r/ppc board seem fairly credible), these new paid search results will likely become the norm over the next few weeks.

UPDATE: The research junkies at Moz.com reported late Friday that the four-ad set is now appearing in as many as 19 percent of all searches. "The ads continue to carry rich features, including site-links and location enhancements," notes Dr. Peter J. Meyers, a Moz marketing scientist.
How does removing AdWords results from the right rail on Google SERPs affect me?
Get ready for the page position battle to intensify. This change could create a ripple effect that dramatically increases the value of those top four paid positions, make placement in the Google local pack (which decreased from seven to three results in August) even more important and push organic search results ever-farther down the page.
Or -- to put it bluntly -- it could cost businesses some money.
"In other words, CPCs could go up," Andrew Nelson, Silverback Strategies' director of paid media, says. "This change would make those top four paid SERP positions even more valuable. Think about the mobile search interface, where there's only two ads on top -- and if you're not one of those two, then you're not visible at all."
Our source at Google claims that the experiment "suggests no significant user impact (and) no increase in CPCs is expected specifically from this change," but does add that the company will monitor how the situation plays out. It's also expected that the new top-four stack will apply mainly to highly commercial search queries -- the most competitive keywords.
"Google," Andrew notes, "is changing things all of the time." That seems particularly true lately, as the way Google presents advertising has been undergoing a series of transformations.
The 86'ing of right side ads comes on the heels of other major search-related news from the industry's biggest player, including the release of its Accelerated Mobile Pages (AMP) program prioritizing mobile-optimized content and ads. Google also put a timetable on the elimination of Flash ads from its AdWords program.
What does this change mean for organic search?
Right now, it's tough to say, although the immediate doom-and-gloom scenario would be more paid ads, higher CPCs and less real estate for organic results add up to a legitimate search crisis. Those coveted hypertraffic positions (the first, second and third organic search results for any given keyword), already invaluable, gain even more strategic importance.
But, as Silverback Director of SEO Kurt Lambert explains, there could be a silver lining -- especially for content strategists.
"On the surface, traditional organic traffic could be much harder to come by," Kurt says. "That means it could be more important than ever to clearly define specific keyword strategies and following through on those strategies to ensure your keywords are ranking in the very top organic spots, versus just celebrating the results you're able to land anywhere on the first page…
"On the other hand, this change in the SERP landscape will also increase the significance of long-tailed organic search traffic by building strategies around search results that would not be generating very many AdWords ads. Blogs could be a big winner here, as blog posts tend to be a very natural way to capture those long-tailed searches while still providing information on very specific needs a searcher may be looking for. Optimizing for Google's answer boxes will also be a great way to take up premium SERP real estate as well, so gearing content towards answering questions could be really valuable. Creativity will be the key here."
So what do I do now?
Don't panic! The official word from our source at Google is that the change is part of an experiment -- and while it's likely that paid SERP results will transform, it's impossible to say exactly what the final product will be.
With that in mind, however, closely watch your account for any significant CPC increases or noteworthy losses in clicks or leads.
Kneejerk reactions like panic-spending on AdWords or, conversely, ditching your PPC strategy and reallocating big chunks of budget into alternative search platforms like BingAds or social networks like Facebook, are premature. Right-rail text ads have not been strong performers for a long time; ride the wave, watch the numbers and react accordingly.
And, of course, be prepared for whatever Google rolls out next. Taking away the AdWords results on the right rail leaves a lot of valuable real estate on Google SERPs. You probably shouldn't expect that it will stay open for long.
"There's been a question about what Google is going to do with all that white space," Andrew says. "We could be seeing the first of many moves."
"Will that area soon feature other paid ads, like Product Listing Ads, display ads or a new Google-sponsored platform?" Kurt asks. "Or could this move be the first of many changes Google has planned for the SERPs, possibly looking to better integrate the Google My Business platform and other local listings when applicable? We'll be sure to stay tuned."