Panda. Penguin. Hummingbird. Not only are these the names of cute animals, they are also the code names of a few of the major updates to Google's organic search algorithm, all designed to prevent low-quality websites from cheating their way to the top of search results and ultimately giving searchers the best search engine experience possible.
Most of these recent algorithm updates address a specific area of focus. For example, Panda was primarily a content-driven update. Sites that were laden with advertising and featured little to no content saw their one-time top rankings drop off the radar completely. Penguin was even more of an overhaul, as Google targeted on penalizing what it considered "webspam," which was any sites engaging in black hat tactics like over-optimized content or keyword stuffing, link wheels, links from other really low-authority domains, etc. Hummingbird was not so much a preventative measure as it was more of an actual update to the way Google served results, moving from keyword-centric search results to more semantic search results. Many people are pegging this as a philosophical shift of sorts for Google, with them now trying to truly figure out what a searcher's "end goal" is regardless if the search results do not exactly match the search query. Here's an example, as "PPC management" and "AdWords management" have the same meaning: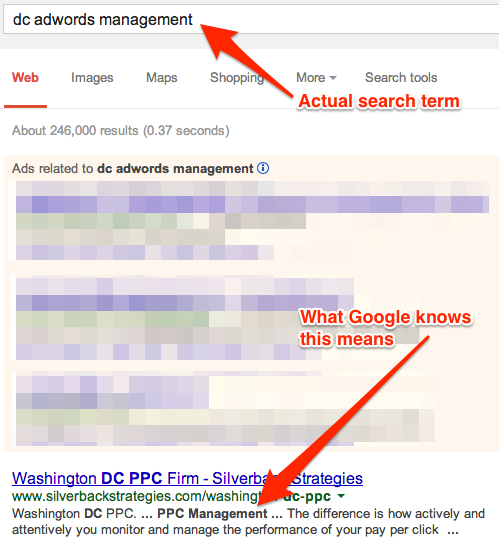 With over 500 of these algorithm updates going on every year, it could be quite time consuming to make sure your site continues to play by the rules as it stays up to Google's ever-changing standards...unless you "Google-proof" your website.
So what exactly does "Google-proofing" mean? It's essentially making sure your website will always be up to Google's standards, no matter what kind of cute animal algorithm update comes next. That means staying proactive, always focusing on providing your website visitors the highest quality experience possible, and when necessary, paying attention to where Google's big shifts have been heading and trying to stay ahead of their curve. That's obviously much easier said than done though, right?
SEO has traditionally been divided into two main areas: on-page and off-page. Let's first take a look at the area that everyone has the most control over – on-page SEO. A majority of the time, this is strictly about content; having well-written, high-quality content that really does provide the answer to whatever a visitor is trying to gain from browsing a particular page goes a really long way. Make sure that visitor can find that information right away, and give them a reason to stick around. Maybe it's so good, that visitor would actually want to share it on their social networks! Over time, the practice of delivering high-quality content can help build your website into a top authority in your given industry. The concept sounds easy enough, but many times websites fail to deliver. However, having quality content one of the best ways to Google-proof your website.
Another on-page tactic that is fairly new to the game is the utilization of rich snippets, mainly from Schema.org. Schema.org is a collection of various structured markup data for a page's HTML coding that highlight some of the most important information on that page – such things like a business' name and logo, contact information, business hours, as well as other specific information like a highlighting a rating or reviews. The Schema.org markups have been adopted by Google, Bing, and Yahoo among others, and have already started appearing on search results:


It's easy to see that having information like this so readily available helps a searcher's user experience from the very start. Seeing that Ghostbusters gets 4 out of 5 stars means that it's probably a good movie (which it is) and could lead someone to watch it without having to do any more research. More evidence of rich snippets becoming a bigger deal is the fact that Google Webmaster Tools now also features areas to check the crawled structured data on your site as well as highlight certain data that Google may not be able to find easily.


They also now have a Structured Data Testing Tool where you can plug in any URL on the Internet and easily see if any data has been marked up. So why would it be so important to have data marked up on your site? Well one of the big shifts in the aforementioned recent Hummingbird update has not only focused on showing better results, but also faster results. Rich snippets make it easier for search engines to find the data that people may be looking for, which leads me to believe sites that take advantage of them may be rewarded favorably in ranking positions…especially when it comes to local searches. Because Google has widely adopted structured data already, there is a lot of evidence that plays to the fact it will continue to play a bigger and bigger role with their algorithm updates in the future.
What about the off-page SEO? For a long time, backlinks were one of the biggest SEO ranking factors. While they do not have quite as big of a role now as they did before, they should certainly not be neglected in any regard. With all the emphasis being placed on becoming an authority source in your industry, the off-page SEO should reflect the same line of thought. In fact, the "quality, not quantity" rule is never truer than when it is applied to link building. All those years of adding links on free directory sites or massive quantities of blog comments are now starting to come back and hurt websites that relied on those links for so long (fortunately, Google's come out with the Link Disavowal Tool to help right those wrongs). Even press releases don't have the same effect they once did, because anyone could issue a press release. Instead, it's about having links built from sites that genuinely want their own audiences to know about you. Why? It's because they recognize you as an authority. It's the most natural form of link building out there, and one that Google would never penalize for.
As Google inevitably debuts algorithm updates like Zebra, Giraffe, and Whale, many more sites may face similar fates to those that have been affected by Panda, Penguin, and Hummingbird. However, paying careful attention to what Google considers high quality results that actually do answer the question of what a searcher may be looking for and continue to build your site off that mindset, you ensure the fact that these cute animals won't have a scary connotation as you essentially "Google-proof" your website.