Remarketing is a powerful feature you can leverage in Google AdWords. Remarketing allows you to show your ads to people who clicked an ad before and landed on your website.
If you have a Google Analytics linked to your AdWords account, you can use Google Analytics data to create targeted, qualified and behavior-based lists of users who have hit your website. This is very valuable, especially if you're already familiar with how to implement advanced techniques like custom event tracking in Google Analytics.
We gave a high-level overview of how to create remarketing lists with Google Analytics previously, but today I'll review some more specific tactics that you should consider. You can implement some of these strategies today, while others may take some more time to set up properly.
NOTE: If you do not know how to create remarketing lists using Google Analytics, here is Google's related article.
Remarketing to people who have hit your conversion point page, but did not convert.
If you or your company's analytics experts are tracking goal completions in Google Analytics, you can create an audience that includes users who have reached your conversion point (a form fill page, for example) but did not convert.
Getting started:
For whatever reason, these people were not ready to convert the first time around. If they navigated to the form fill page (and it was not the landing page), then the users showed some interest but did not convert, whether they were not interested or something came up. Remarketing to these people will give you an opportunity to sell your product or service to them again.
Create a new segment of users who have hit your form fill page and have not completed a goal. Make sure that you set the filter to "Users" and "Include." Filter Goal Completions "per user" and not "per session".


People with higher than average engagement rates than converters
When you want your paid media program to remarket to people who have not converted, understanding the behavior of users who have converted is a good place to start. You can create a segment of "Converters" by filtering for people who have greater than one goal completion, and identify what the user behavior metrics look like for these converters.
You can find the average Pages Per Session and average Session Duration in your Google Analytics reports:
(Acquisition > All Traffic > Channels or Source/Medium, or Behavior > Site Content > Landing Pages)

If the average Converter hits about three Pages Per Session, you can create a segment that filters for visitors who have not converted but have also had three Pageviews Per Session. This is a great way to target people who were very engaged with your website for a session, but, for some reason, decided it was not the time to convert (or got distracted).
Here is a segment for non-converting users who had a session duration (must be in seconds) longer than the average converting: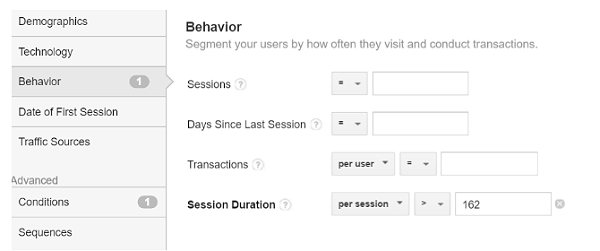 Demographics that have a higher conversion rate
If you've enabled advertising features in your Google Analytics Property Settings, you have access to the (Audience > Demographics) report, which breaks down user data by age group and gender. This allows you to identify which demographics of users are more likely to convert than your average visitor and remarket to them, filtering out those who have already converted.

Scroll Tracking (takes some implementation)
Scroll tracking is a great way to measure user engagement if the content on your page requires a good amount of scrolling. Although scroll tracking requires a bit of work to implement, it provides valuable user information, especially if you want to learn more about how engaged users are with certain content.
If you're using Google Tag Manager (like we recommend), check out this article on how to implement scroll tracking. Otherwise, Justin Cutroni's walkthrough of scroll tracking is helpful if you have access to development resources. Once implemented, you'll be able to see something like the following show up in your Google Analytics events report:


You can create a segment that filters for people who have triggered a certain event, which is part of what makes remarketing with Google Analytics so powerful. One of my clients saw a big decrease in Cost per Conversion when remarketing to people who scrolled down at least 50% of the page.


Cohort of engaged users who have not converted
The Cohort Analysis report in Google Analytics offers great insight into user behavior, including how often they return to your website and how long it takes them to convert. The Cohort Report groups your users by acquisition dates (when a user started her first session), and shows the behavior of each cohort in the following days, weeks or months after their first session.
For example: If you identify that the group of users that started its first session within the second week of last month has high user retention in the following week but low goal completion rate or revenue, it may be worth remarketing to these users to push them over the edge. Cohort analysis allows you to pick a cohort size (by day, week, month), date range and metric.
Below is part of a cohort analysis report showing User Retention in the days following their acquisition.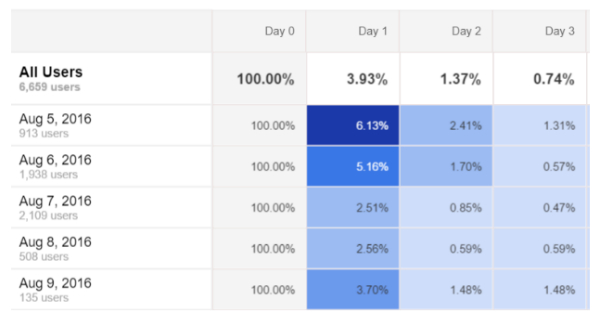 The cohort report makes it very easy to create audience segments. All you have to do is click on a frame of the cohort you wish to target, select whether you want the segment to be available in your current view or any view within the property, and then click create (below):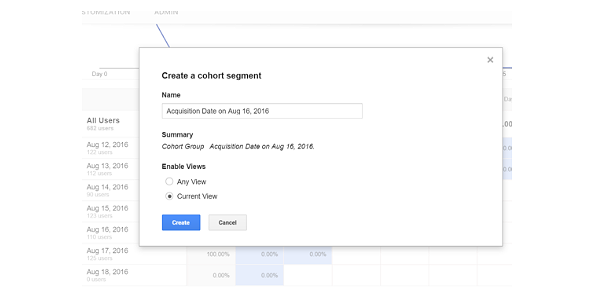 The cohort report also allows you to see when users start to become disengaged with your product or service, which can help you determine how long your users should be kept on your remarketing lists.
For example, if your cohort report reveals that Goal Completions for any given cohort tends to drop off after 30 days, it may make sense to keep users on your remarketing lists for 30 days. This way, you are not showing your ads to people who likely have already made the decision not to convert.
These are just a few remarketing lists you can implement using Google Analytics. You can get really creative with the audience you create, and make different audiences for different goals that you have. For example, if you want to promote a new piece of content to users who have previously download a related PDF, you can do that via event tracking. If you want to remarket to users who came from a specific channel, you can easily do that as well. The flexibility of Google Analytics remarketing makes it a most have for digital marketers.