Website migrations can be challenging for even the most experienced developers and SEO experts. There are multiple moving parts in a migration and details can easily fall through the cracks. Missteps that seem small within the scope of the overall migration project can accumulate and set back your site's future SEO progress by months or even years.
What is a Site Migration?
The term "site migration" can be used for a variety of transitions that a website may undergo. In the SEO industry, we address migration in many forms, including:
Website redesign: A website redesign can include updating templates to match new branding, changing the look and feel of a site with new colors and visuals or any other design/ development elements that may be altered.
Domain or URL change: Examples of domain/URL changes could include transitioning a website's domain from college.com to college.org or changing the URL from college.com to collegeadvice.com.
Brand Redefinition: Was your company acquired by another business? You may need to execute a brand redefinition. When numerous sites are rolled into one, there are risks to organic traffic and visibility if the migration process isn't executed cleanly.
Transition from HTTP to HTTPS: This form of migration occurs when the site domain is unchanged but an SSL certificate becomes associated with the site. The addition of an SSL certificate makes a site secure in Google's eyes.
Responsive Design: Responsive website design is now the industry standard. Responsive design allows each page of a site to scale proportionately across all devices.
Regardless of the type of site migration, it's important to have a plan in place to ensure the site's search engine visibility will not be negatively affected. We've put together a comprehensive checklist that reflects the current best practices for preserving SEO gains during a site migration. By following the actions outlined here, you can minimize the risk of traffic loss, keyword ranking drops and other red flags of SEO decline that negate the hard-earned victories won with the old site.
There are high, medium and low priority items that you must address before and after your site migration. Silverback SEOs use a site migration checklist, itemized by priority, that details every component we need to maintain and even improve a site's search visibility during the migration process.
High-Priority Site Migration Items
These are the most important items to ensure are in place before and after a site migration:
Canonical URLs & Canonicalization Issues (Duplicate Pages/ Content)
Avoid duplication issues that can cause roadblocks in achieving desired organic search results. Review your use of canonicalization to resolve potential duplicates page and duplicate content issues on your site.

Duplicate pages within your site can "split" search engine authority without proper canonical tags in place. This splitting can negatively affect your presence on search engine result pages.

Permanent 301 Redirects
Your new domain will likely differ from the current URL structure you have in place. You need to ensure that all pages from the original site are properly 301 redirected to the appropriate version of the new page.
A 301 redirect maximizes link value and allows traffic to be sent to the relevant page that the redirect is points towards. You should also minimize redirect chains — having the same URL redirected multiple times — by removing any redirects that cause a page to be redirected more than one time before reaching the desired URL.
A great tool for detecting redirect chains is the HTTP Status Code Checker.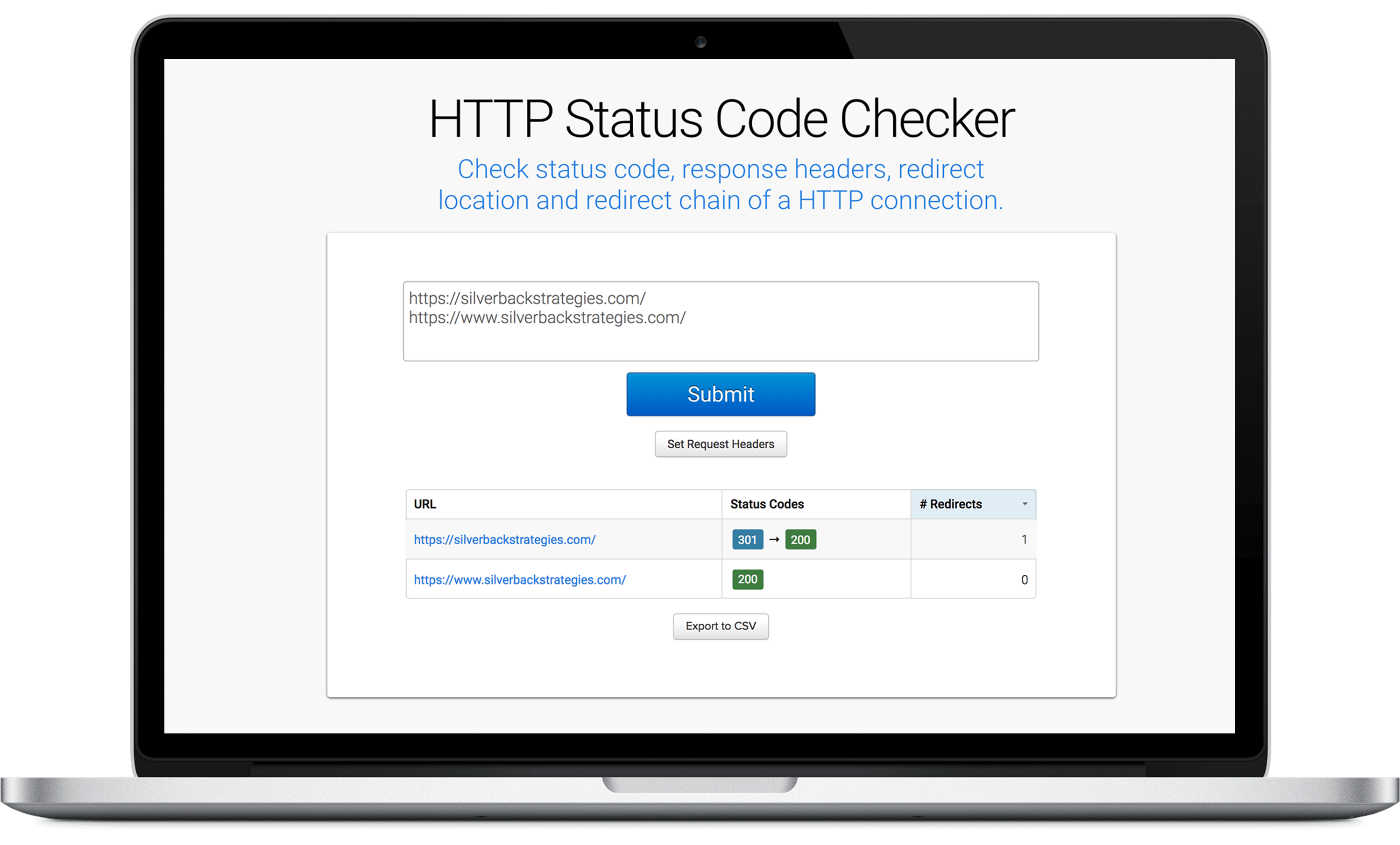 Google Search Console
Google Search Console offers various items to check your site before and after a site migration. The Google Search Console property for your site should be checked for any errors that could be affecting site health.
Big red flags include crawl errors, index status and search queries. Crawl errors tend to increase post-migration as URL structures are updated. Your site should be reviewed for these types of common mistakes on an ongoing basis. Crawl errors can be found in Google Search Console under Crawl → Crawl Errors.

You'll also want to make sure your priority pages are being indexed by Google.
Index Status ensures that all the relevant pages are being indexed by search engines. Indexed pages have the potential to bring in provide visibility and conversions. Set a goal that 90% of relevant pages across your site are indexed in Google.
Search Queries provide insight on what organic keywords are bringing in impressions and clicks to your website. It is essential to look at this information! Check it out after the migration to see what, if any, impact the migration has had on high-performing pages throughout the site — negatively or positively.
Navigation
Review your internal site navigation. Make sure appropriate links continue to be crawlable by Google. Internal linking allows maximum link value to be passed to target pages.
Pages with more internal links are seen are more authoritative to Google. Make sure to keep all internal links in place during a migration.
Google Analytics Tracking Code
Don't lose your website's analytics tracking (like traffic or goal completions) during your migration! Tracking codes can accidentally be removed while going through a migration. Double-check your Google Analytics tracking code to make sure it is properly implemented and remains in place on your site.
XML Sitemaps
URLs found in all existing sitemaps should be updated to reflect any domain, http to https, or URL structure changes. It is also important to re-submit the updated sitemap to Google Search Console so robots can easily locate and crawl the updated pages. Sitemap information can be found in Google Search Console under Crawl → Sitemaps.

Conserve Rich Content (Video, Audio, Interactive Content, etc.)
The rich content on your site should remain intact and properly crawled. Any loss in rich content can result in ranking losses, which lead to traffic losses and, ultimately, a drop in organic search conversions.
Mobile Compatibility
Consider the recent Google algorithm changes and their shift towards mobile-friendliness as a ranking signal — mobile has never been more important to your site's performance than it is right now. Your mobile site is utilizing best practices, is aesthetically-pleasing and conversion-oriented. Mobile should be top of mind from the design process, throughout the site migration and into your post-migration review.
Google's Mobile-Friendly test is a tool that lets you easily test your site's pages mobile-friendliness. You can run the test directly from the search results, as shown below: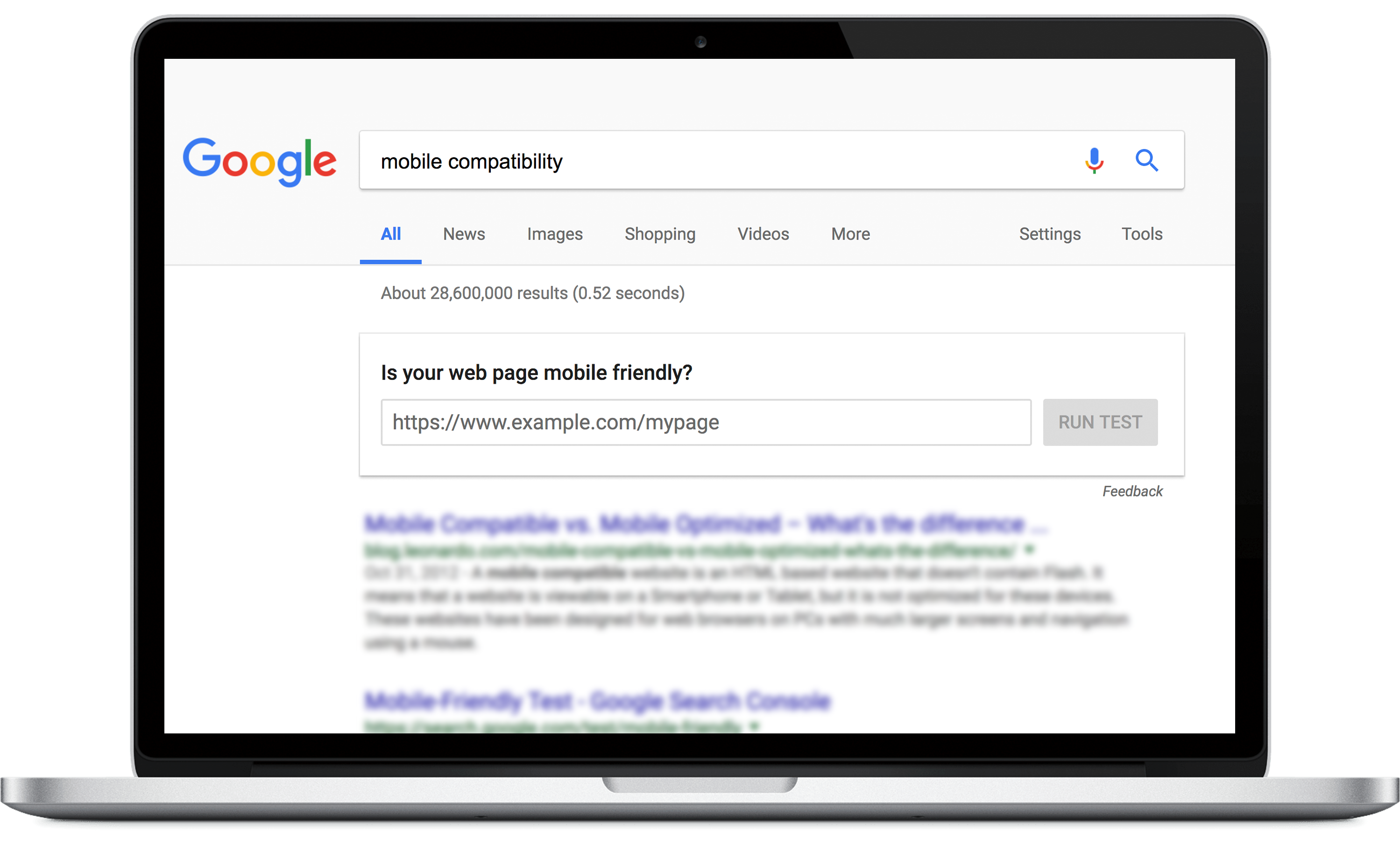 Identify and Log Benchmark Data
Log benchmark data before and after site migration to help measure progress and identify any potential issues. Important data to log from your current and new sites include:
Crawl data from Google Search Console
Domain authority
Number of indexed pages in Google, Bing & Yahoo
Number of backlinks
Number of linking root domains
Number of linking root IP addresses
Number of linking root C-class IPs
Keyword rankings
Medium- and Low-Priority Items
For the smoothest-possible site migration, you'll need to consider medium and low priority items, too. Silverback's complete site migration checklist includes items such as internal linking, reviewing page titles and descriptions, page speed and more.
Download the checklist today to see the comprehensive list of SEO items to review when undergoing a site migration.