It's no secret to digital marketers that content and SEO are deeply connected.
After all, what's the point of great content if no one can find it? And what's the point of a well-optimized landing page if no one wants to read it?
Content writers and SEO professionals need each other. That's why it's more important than ever to integrate these departments.
The Connection Between Search and Content
According to Andrey Lipattsev, Search Quality Senior Strategist at Google, link building and quality content are the two most important ranking factors to Google. What more evidence do you need that content and SEO directly affect one another?
At the intersection of content and SEO is the marriage of the creative and the technical — that's also the beginning of a robust and successful marketing strategy. Not everyone is gifted with the natural ability to be both creative and technical. It's also why it is so important to empower content and SEO team members to understand the other's roles and goals.
Imagine a world where readers are actually looking for your content, finding it, reading it, and engaging with it. Bonus points if they also share it on social.
The Importance of a Holistic Approach
It's clear at this point that one of your brand's main goals should be creating content that is ripe for robots and readers. This won't happen unless your content and SEO teams are on the same page.
A few quick ways to initially integrate your teams:
Host learning sessions where Content learns what the SEO team actually does, and vice versa. How do the teams conduct audits? What are some of the biggest red flags they look for? What are some of the most common issues they find? This is a great way to spur questions and introduce each other to specific terms and concepts that may seem confusing or foreign in the abstract
Implore content writers to play around with Google Keyword Planner, Moz Keyword Insights, SEMRush, and any other tools your brand utilizes. Similarly, give the SEO team a chance to experiment with your social listening platform, online tools like Coschedule's Headline Analyzer or PicMonkey's fun editing suite, or even have them sit in on a brainstorming or ideation session.
Educate both teams about how content and SEO affect one another.
It's okay if your content team doesn't know how to optimize a robots.txt file – let the SEOs take care of that. It's also okay if your SEOs can't formulate a compelling email subject line – content people live for that stuff.
The point is not to make either team do the other's job. The goal is to help both content and SEO team members understand the deep connection between their roles in digital search and engagement.
Here are a few actionable ways your teams can work together:
Integrating Content into SEO
72% of digital marketers say content creation is their most effective SEO tactic, according to HubSpot.
With that said, it's important to do it right. Occasionally, brands will try to take shortcuts and fill their sites with auto-generated content, duplicate content, or doorway pages to try to rank in Google without putting in the work.
This is referred to as "thin content," meaning a site has little to no original content. This is a "black hat" SEO tactic and Google's algorithm will eventually figure it out and penalize your site.
For that reason, SEO managers often recommend building out additional pages on websites in order to optimize for relevant keywords – but it needs to be done the right way.
Once the keyword strategy has been created, it comes time for the actual copywriting. Content writers are gifted with the ability to create rhythm in their writing, so it might not be difficult for them to naturally weave keywords into the fabric of body copy and metadata. This is a key opportunity for your teams to collaborate.
Make sure your content writers know not to "stuff" the page with keywords and are armed with enough SEO knowledge to strategically place keywords in places that matter - title tags, meta descriptions, H1s, body copy – to name a few.
Integrating SEO into Content
Content team members thrive on brainstorming editorial calendars and unique angles on industry-related topics. But sometimes, they forget to think about the search viability of the campaigns and pieces they're eager to write.
This is where the SEO team comes in. SEOs can help content writers choose keywords to target in their blog posts.
Did you know that 50% of search queries are four words or longer? This presents a key opportunity for your blog strategy.
Before viewing the chart below, you might assume that it's better to go after keywords with more search volume. While search volume is an important factor to consider, too much of it might not be a good thing when it comes to traffic and conversions.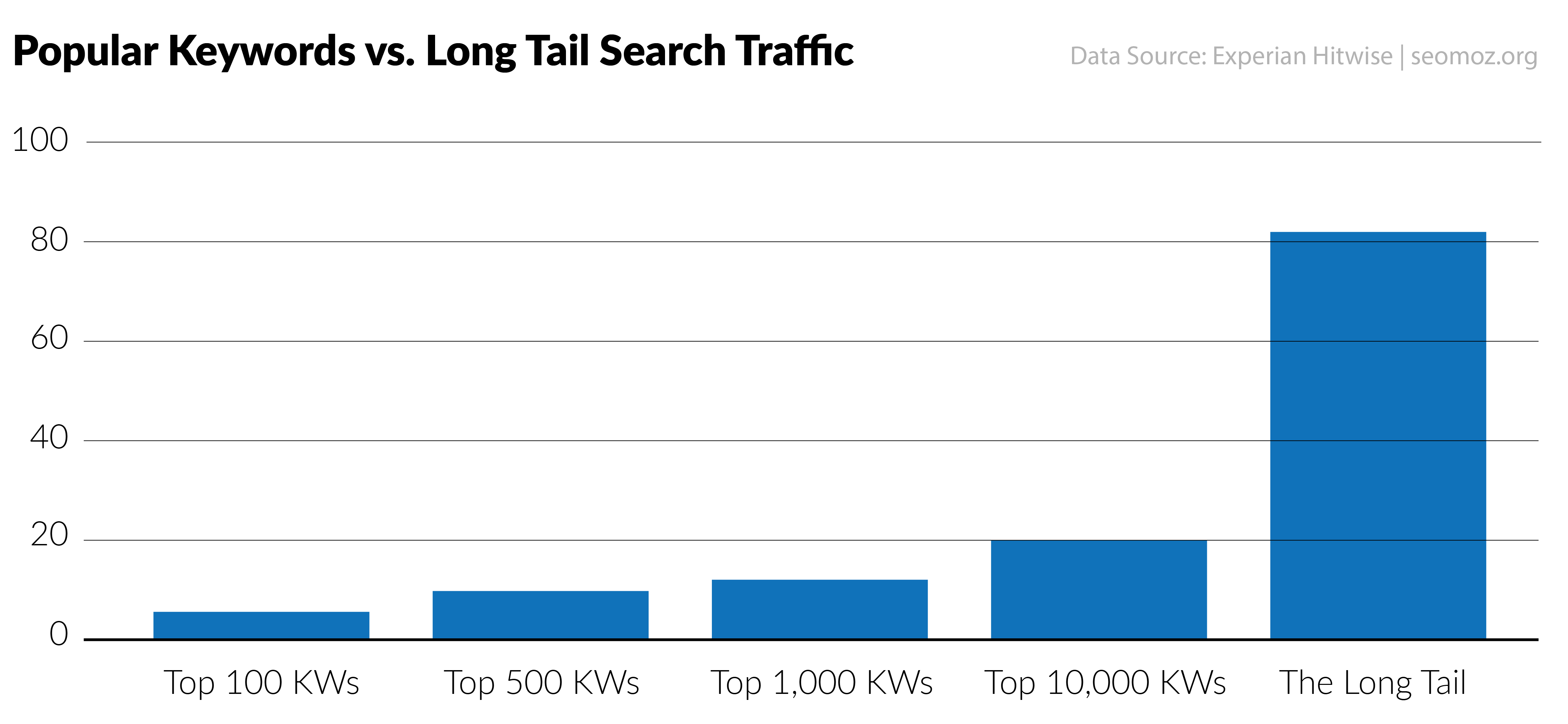 The longer tail the keyword, the more specific the query. If you rank well for a very specific query, that traffic is more qualified, and the user is most likely further down the funnel.
No matter what your editorial strategy looks like, content writers and SEO managers can work together to determine the best keyword opportunities for each blog post. Once a content team member has a list of possible topics for the editorial calendar, the SEO strategist can perform keyword research around those topics and recommend long tail keywords.
The content writer can then weave those keywords in naturally, while also making sure to optimize metadata and URL slugs. Using a tool like Accuranker, BrightEdge, or SEMRush, the two can then track the ranking success of each post for its target keyword.
Another way content and SEO can partner together to improve the search strength of a content strategy is to employ a solid link building and influencer outreach program. Building external links from authoritative websites is a key ranking factor and can help boost the site's domain authority.
It might make more sense for an SEO manager to search for simple brand mention opportunities, while the content strategist crafts catchy outreach messages to brand influencers. No matter how you set it up, make sure that both parties understand the value of a link building program both from a technical and social perspective.
The risk of not integrating these two important teams is more than a less-than-perfect online presence. Without alignment, these teams may actually be hindering the progress of their counterpart.
Are your content and SEO teams in sync?