Not very long ago, the pinnacle of search success was achieving that number one ranking. But as Google continues to work towards answering users' queries better and faster, featured snippets have become even more desirable real estate on the search engine results page.
Sometimes also referred to as "answer boxes," featured snippets are an extremely powerful opportunity to help sites rank well, especially as search is becoming more and more competitive.
What is a featured snippet?
A featured snippet is an enhanced answer box that ranks above traditional search results and provides a summarized answer to the user's query. It is content pulled directly from a top-ranking page and includes the title tag and URL.
Here is an example of a featured snippet for "how to make slime":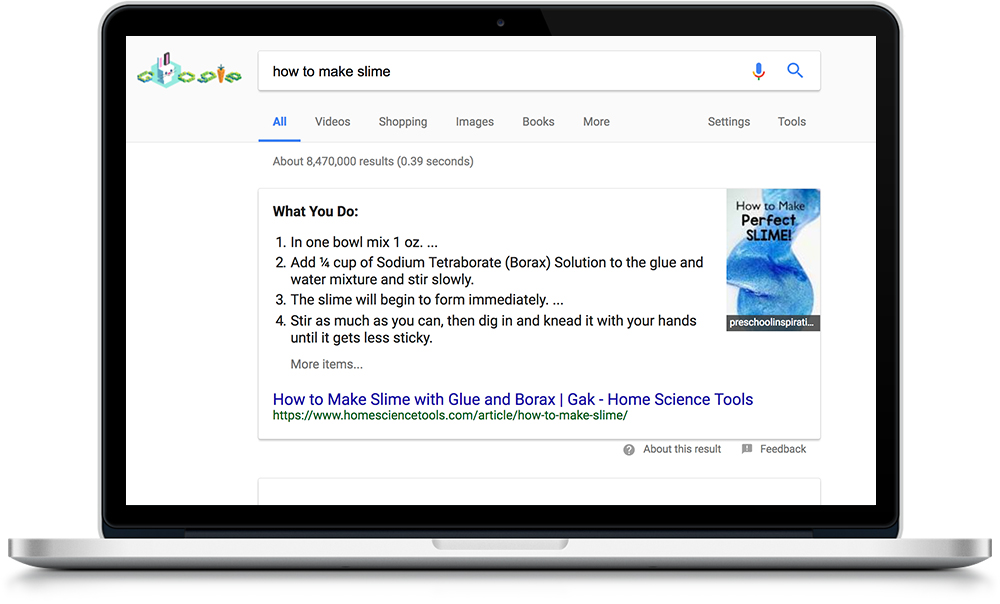 Featured snippets can come in a variety of formats including:

Paragraph (most common)
Lists (bulleted or numbered)
Tables and Charts
Images (can appear with other formats)
According to an Ahrefs' study of over 100 million queries, around 12% of results included a featured snippet. With the increasing popularity of voice search and home assistants, these quick answer blurbs are likely to become more popular and even more important for marketers.
Why should you care about ranking in the featured snippet?
Content featured in the answer box ranks above all other results in "position 0." This offers your site greater:
Visibility
Credibility/trust
Click-through-rates (CTR)
Most importantly — traffic
Every site has the potential to obtain featured snippets, no matter its size or authority.
How do you get featured snippets?
Google's algorithm for "snipping" content isn't based solely on ranking factors like backlinks and authority. Instead, it places more value on the actual content, format, and page structure.
Google picks the content that it believes is most relevant and best fulfills user intent. Answers are programmatically selected, so structured data has no impact.However, sites that don't want to appear in snippets can opt out using the <meta name="googlebot" content="nosnippet"> tag.
While there is no guaranteed way to get featured snippets, you can follow these four steps to improve your chances.
Step 1: Research.
Find a keyword or phrase for which a featured snippet already triggers. Based on the same Ahrefs study, over 85% of keywords with featured snippets have less than 100 average monthly searches. Meaning, they are longer-tail keywords.
Think of potential questions customers ask in your industry and search for answers on Google. Use Google Suggest for more ideas using typical question starters, including:
How to
What is
How do/does
Why do
Remember — the best query may not always be a direct question. Try to think of different ways to ask or imply the question once you get an idea. For example, include words like:
Best
Review
Vs
Definition
Get
List
Depending on the query, Google may also provide a "people also ask" (PAA) section:
This feature dynamically generates more questions based on those a user selects. Click through the list to determine a list of related queries.

Once you have a list of long-tail keywords, check the search volume to find the most-searched queries. Use this data to organize your questions into a rough outline for your content.
Step 2: Evaluate the page currently ranking in the knowledge graph.
Determine if the current featured snippet needs an upgrade. Ask yourself:
Does this result answer the question accurately and completely?
Is the correct information is being pulled?
Does the type of featured snippet fit the question?
Google's algorithm for featured snippets seems to favor lists for question-based queries and paragraphs/text for implied questions. For example, "how to queries" are often step-by-step guides.
While evaluating the featured snippet, it's important to also check the first page of results. Although longer tail keywords tend to be less competitive, you don't want to waste time developing content for a keyword that won't rank in the top ten.
Step 3: Rank on the first page of results for that keyword or phrase.
Smaller brands that struggle with SEO may think this is impossible. However, the featured snippets appear mostly for long-tail keywords, which are often less competitive.
In addition to general SEO best practices, optimize for your target keyword or phrase by including it in the:
Title tag
Meta description
Header
Content
While Google is looking to pull a summary answer, the rest of the content on the page should still be high-quality, engaging, and user-focused.
Step 4: Most importantly, be better.
Once you get on the first page of results, you need to have the best answer that is easily "snippable."
Include the target query in a header tag. Right below the question, add a summary answer in the appropriate format:
Paragraph: <p> — typically between 50-60 words long
Lists: <ul> or <ol> — can also be pulled from the subheaders, especially if they are labeled as steps
Tables: <table>
In addition to proper structure and quality content, adding attention-grabbing images will help the featured snippet stand out even more. Google picks images at random from the page it features, so it's extremely important to include only visually appealing, high-quality, well-annotated images.
Step 5: Review and maintain.
Once you have the featured snippet, you don't want to lose it.
Google wants to serve the best results to its users, so you should regularly evaluate your content to ensure it remains the top answer.
One problem you may face is that the featured snippet does not always appear when you search for your query. Google is constantly testing results, trying to determine which pages perform best. If this happens, try your query again later, or search using your browser's incognito mode.
Bonus: Review your current keyword report for more opportunities.
Check to see if any of your content already ranks for question-based queries. These pages all have the potential to be re-optimized using these five steps.
The value of featured snippets
Featured snippets can be a great way for smaller business to improve organic visibility, user engagement, and brand trust. Getting in the answer box comes down to providing the best answer and writing content that is:
High-quality
Well-structured
User-focused
Research-based
If you have any questions or would like to share your experience with featured snippets, we'd love to hear from you! Comment below.