There has been a lot of buzz around Google's Accelerated Mobile Page project (AMP for short), and for good reason. AMP pages are web pages built specifically for mobile devices, designed to load almost instantly for an ultra-quick and easy browsing experience. AMP pages achieve this optimal load time by stripping out certain elements found on most standard websites and limiting third-party functionality like ads and tracking codes.
When Google first started rolling out AMP pages in 2016, they were primarily aimed at publishing websites that tended to have their articles indexed in Google News. AMP results started appearing in many "News" carousels, as Google wanted users to be able to read real-time and breaking news as quickly as possible.
Towards the end of 2016, AMP usage started branching out beyond the publishing industry. Any website was soon able to create their own AMP pages regardless of vertical and have those pages indexed in Google's main mobile organic SERPs, with the AMP-powered results with a small lightning icon, signifying to users that they can expect that result to load in the blink of an eye.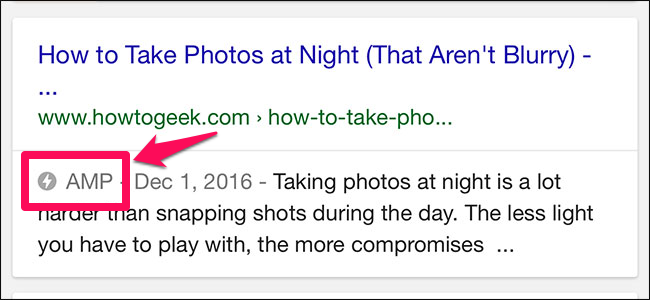 Since that time, Google has announced that it would be soon making a major shift in its algorithm by evaluating websites by how they are presented on mobile devices, as opposed to their traditional "desktop" crawlers. Known as "mobile-first" indexing, this announcement seemed inevitable as the rise of mobile continues to grow and the notion of micro-moments becomes a regular part of daily life.But what does this mean for AMP pages — and why should marketers care?

What Google AMP Means for Marketers
While Google has stated there are no direct SEO benefits from a website leveraging AMP technology, the indirect benefits are still very clear. It's no secret that user experience signals play a huge part of SEO ranking factors, and will continue to do so over time. Page speed, a clean layout and easy-to-read content are all vital components of SEO these days — and these all happen to be areas that an AMP page improves naturally. In fact, Google has been so pleased with the user experience that AMP has provided thus far, it's even brought the technology over to AdWords for use on paid landing pages as well!
If you need further proof that the Google AMP project is (and will continue to be) a big deal, it's noteworthy that rival Facebook announced AMP integration earlier this year. Back in 2015, Facebook had launched their own "mobile-optimized" version of web pages known as Instant Articles. However, Instant Articles struggled to get off the ground and found a very low adoption rate over the two years since, while AMP usage continued to explode.
Google AMP Strategy Will Evolve with Technology
Sure, AMP technology is not perfect (yet). There are still limitations with tracking, such as measuring Google Analytics traffic across the AMP and non-AMP version of a particular page, and full-scale third party JavaScript and HTML5 features still aren't available. With that said, Google continues to invest in AMP technology and make improvements to how robust these pages can become. They have added a whole section into Google Search Console that allows webmasters to check the health of their AMP pages, as well as let us know which AMP results are indexed and generating impressions and clicks under their Search Analytics.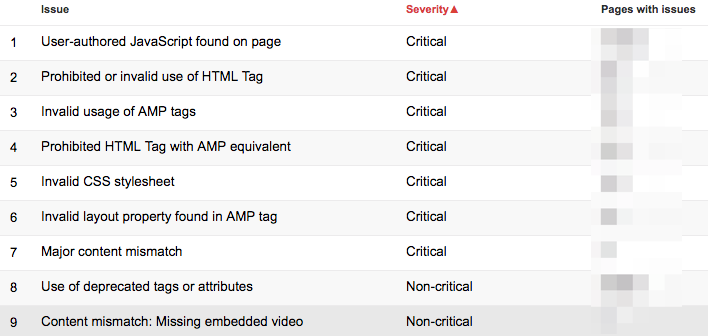 A look at AMP issues in Search Console
Ready to take the plunge into the world of Accelerated Mobile Pages? As with most technical updates, there are certainly risks to adding this to your website. Issues like not developing the pages under the right AMP guidelines or not setting up proper the proper relationship between AMP and non-AMP URLs can take an already successful organic presence and potentially run it into the ground. However, the risks are far outweighed by the rewards, because as is the case with many things SEO, it's Google's game and we're playing by their rules. An effective AMP strategy can set your business up for mobile success for years to come.
Image Credits: searchengineland.com, howtogeek.com