"How do you use digital marketing without the internet?"
It's a serious question. The United Nations has optimistically set out to connect 50 percent of the global population to the Internet by the end of 2019. That still leaves an estimated 3.8 billion people without access to the socioeconomic benefits of globalization. It warrants a serious answer.
So, what is the answer to the seemingly rhetorical question? The U.S. Department of State challenged Silverback Strategies and we rose to the occasion.

Silverback Partners With Global Audiences
Silverback has always viewed itself as a true partner to our clients — we're always willing to delve into the smallest details to help boost growth. But recently, our performance marketing agency impacted businesses on a macro-level.
The State Department invited Silverback President Andrew Nelson to appear on its live webinar series — GIST TechConnect — a program designed to empower young innovators across the globe through networking, skills training, mentoring and direct access to industry experts.
Our agency's involvement in this particular livestream is noteworthy because of the broad audience demographic, skill-level disparity and far-flung industry variation.
What is GIST TechConnect?
Since 2011, this monthly broadcast through the Global Innovation through Science and Technology (GIST) initiative has connected entrepreneurs around the world to experts and thought leaders from leading U.S. businesses.
GIST allows innovators in emerging economies to gain invaluable expertise at no cost. Many of the participants could not otherwise consult with such a diverse array of subject-matter experts in their respective fields.
Every broadcast focuses on providing science and technology startups with the basics needs to operate a sustainable and successful organization.
This purpose of this webinar can be boiled down to one proverb: If you give someone a fish, the person eats for a day, but if you teach someone to fish, there will be food for a lifetime.
GIST TechConnect provides actionable advice to individuals in burgeoning economies and provides them with the instruction needed to be self-sufficient and profitable.
The Impact of Digital Marketing on Startups
One of the most impactful skill sets that entrepreneurs desperately need — but lack — for increased visibility is digital marketing.
Most international development focuses on finance and increasing accessibility to capital. However, recent research has pointed to marketing as the most integral factor in influencing the outcome of a startup in an emerging economy.
Access to capital is imperative. A recent Stanford study noted that roughly 80% of small-scale entrepreneurs in emerging markets can't get the credit they need to survive.
That reality is crippling. However, even with those cash flow struggles, the biggest constraint to growth in these markets is the inability to identify and target the correct audience, according to the study.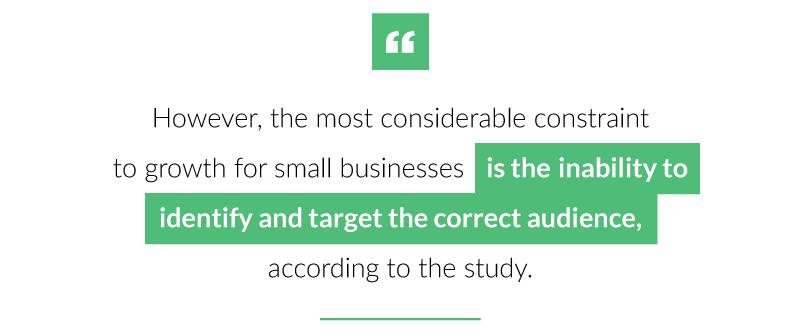 Before financial capital can be effectively invested into a startup, it's vital to create a market for the service or product offering. Entrepreneurs need to understand the needs and wants of different consumers and how to address those problems and fulfill those desires.
The GIST Challenge
As part of the GIST livestream on Feb. 14, 2019, Silverback was asked to discuss the process of formulating a digital marketing strategy and provide tool recommendations for executing the plan.
Andrew Nelson, president of Silverback, jumped at the opportunity.
"The livestream is a great way to connect marketers to share their insights and strategies," Andrew said. "It's giving these entrepreneurs an opportunity to learn from each other and run effective marketing campaigns that get their ideas out to the world more quickly and effectively."
This event administrators posed a few unique questions to Andrew to help him get prepared to speak to an international audience:
What digital marketing tools are intuitive, inexpensive and transcend borders?
What is the most concise and helpful information that can be communicated effectively to a broad audience in a limited amount of time?
How can digital marketing jargon be simplified to avoid confounding the complications accompanied with translating the webinar for non-English speakers?
Andrew rose to the challenge. He emphasized that digital marketing poses some unique challenges to a startup — specifically when there is a lack of resources, particularly time and money.
The purpose of digital marketing for startups is to lay the foundation for future marketing and promotional strategy.
Andrew recommend entrepreneurs take time to convey their product or service to their target audience. If the groundwork is laid for future promotion at the onset, then when the opportunity is right, scalable organizational growth is possible.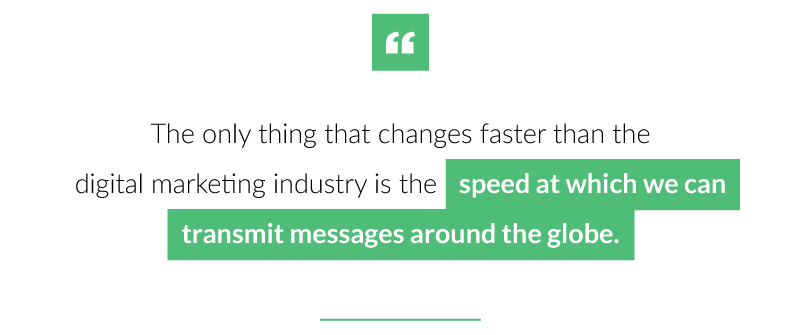 "The only thing that changes faster than the digital marketing industry is the speed at which we can transmit messages around the globe," Andrew noted. "It's so impressive to see how these entrepreneurs from all over the globe are facing some of the biggest marketing challenges we face today."
Universal Digital Marketing Tools
Some startups don't have large marketing budgets. Andrew made sure to present affordable ways to leverage tools that are available for free.
Some of the tools he recommended include:
Google Analytics — Free and a (relatively) easy to measure website traffic and engagement.
Google Trends — Another free way to see what people are trying to find on the internet right now, or over time.
Hootsuite — freemium social media management software that helps busy entrepreneurs stay organized while executing a social strategy.
Ubersuggest — a free tool that helps answer some basic SEO and topic ideation issues.
Hubspot Website Grader — another free tool that helps determine the overall strength of a website.
To circle back to our opening question: a viewer really did ask Andrew how digital marketing could be done without the online access.
He suggested devising a content marketing and SEO strategy offline. Even with limited access to the Internet, it's possible to schedule social media to post while later offline. This actionable advice allows businesses to constantly communicate with their audiences.
And it was a pretty helpful answer that Andrew was able to answer extemporaneously. Not bad.
Prioritization of Efforts
Some webinar viewers were overwhelmed at the sheer volume of recommendations, so Andrew made sure to prioritize the most important efforts that would yield immediate benefits.
First and foremost, he said, begin tracking performance metrics through Google Analytics. This establishes a baseline to chart the impact of marketing efforts.
Startups, he continued, should tap into their own expertise to create unique, quality web content. This establishes the business as a thought leader and legit resource for potential audiences. It also provides social media content.
Finally, Andrew explained that it's imperative to conduct market research and get a pulse on business operations through Google Surveys. This can give context to data observed through reporting metrics.
Colloquial Conversation
One of the most important considerations during the planning of this webinar was to cut out unnecessary jargon and acronyms that might not be commonly used or applicable in other countries.
Both Andrew Nelson and co-panelist Scott Sorenson, president of Compete Agency, answered questions submitted during the live webinar in a way that could be applicable regardless of startup industry or regional demographics.
"We had a great host and an engaging panel of experts. But really made the event shine was the questions getting sent in from around the world," Andrew said. "Great questions were being asked that resulted in actionable insights that marketers could take and integrate into their marketing strategies right away."
Did We Have An Impact?
The immediate effects of the webinar were obvious. Participants were eager to share their positive feedback with the State Department team.
"The event as well organized, speakers were great and experienced and knew the topic," noted Jarius Andrew Greaves, Liberia. "They even provided simple examples that participants were able to understand the importance of digital marketing as entrepreneurs and tech innovators. Our participants were satisfied, understood the topics and they gained skills in how to better manage their social media pages, accounts to attract customers or to gain respect within your business ecosystem."
An estimated 494 viewers tuned into the GIST TechConnect webinar, including at least 21 viewing groups in Tunisia, Nigeria, Costa Rica, South Africa and 13 other nations.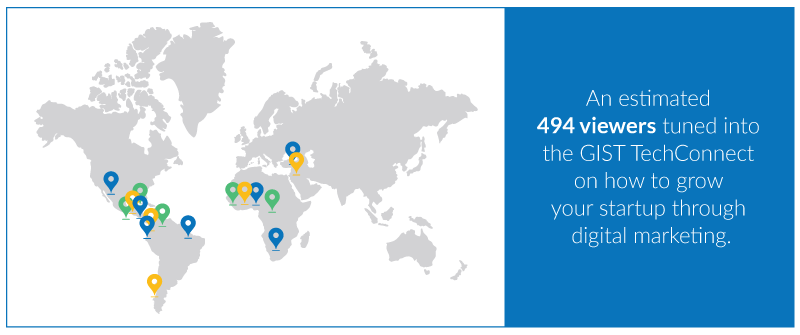 Long-Term Benefits of Providing Marketing Training To Small Business in Emerging Economies
Research has revealed that entrepreneurs who receive marketing training tend to become more profitable and produce a growth-focused business model.
Innovators with marketing training bolstered marketing activities and consequently increased sales, writer Steve Hawk reports.
Entrepreneurs who received marketing-related training increased monthly sales in the range of 25% compared to groups that did not receive marketing coaching.
"I believe it," Andrew said. "I'm glad we were able to do our part. I'm excited for Silverback to continue making this type of thought-leadership a priority as we grow."