In 2018, Google released several updates that impacted the way we approach search engine optimization for our clients. From tool improvements to algorithm updates, the SEO team at Silverback Strategies has used these new developments as opportunities to improve service to our clients and give them the positive results they need.

Here are some of Google's most noteworthy announcements from 2018:
Sites Migrated to Mobile-First Indexing
In March 2018, Google gradually started migrating sites to mobile-first indexing. This means that Googlebots are indexing and ranking sites based on the quality of their mobile pages.
In the past, big differences between a brand or company's desktop and mobile sites were not uncommon. This caused issues for users searching on mobile devices.
This update prompted sites to prioritize mobile-friendly content and user-responsive designs. Failure to optimize for mobile-first indexing devastated some sites' website traffic.


Algorithm Updates That Reward Relevant Content
Spring 2018 saw Google algorithm updates that rewarded pages with content considered "under-rewarded." These updates placed extra emphasis on relevant search content.
Google's August algorithm update rewarded established "Your Money, Your Life" sites. "Your Money, Your Life" sites are those that have the ability to impact the future happiness, health, financial stability or safety of users.
Author credibility and brand reputation contribute to page quality and, in turn, search rank. Poor reputation is a signal of low-quality content.
This ranking factor corresponds with the way that humans evaluate content. Building trust — i.e., creating value — is important in the development of loyal site visitors.
Here at Silverback, our SEO experts enhanced our keyword research to help clients better align new and existing pages to the ways people are using organic search. We also began to encourage clients to implement descriptive author pages that highlight expertise and include links to authors' articles.
Flagging Non-Secure Sites
Google began to flag sites that use HTTP protocol as not secure in July 2018. A non-secure site may discourage consumers from the site, causing bounce rate to increase. This update motivated smart sites to move from HTTP protocol to the more secure HTTPS protocol, ensuring a greater degree of user trust.
Secure sites protect user information and make visitors feel more comfortable, especially when sharing personal data like purchase information.


PageSpeed Insight Tool Gets New Look, Data
Site speed is a Google ranking factor that is not only important for Google crawlers but also impacts user experience.
The update to the PageSpeed Insight tool provides more data and insights than the previous version.
The analysis is broken up into the following categories: Field Data, Lab Data, Opportunities, Diagnostics, and Audit.
These new categories allow SEOs to go deeper into site speed issues. The Opportunities category, for example, provides an estimate of time that could be saved if optimizations are made on the site. This is helpful for relaying the importance of certain changes to clients.
Google My Business Updates
There were several 2018 Google My Business updates. Two of those include the addition of posts and service areas.
A business owner can now create posts within a GMB profile. These posts are a great way to increase traffic to the business' site.
Google released several post types throughout 2018 that allow users to share company news, blog posts, deals, events and more. These posts are removed from the Google My Business profile after seven days. Post insights are available to help users understand the posts' performance.
The shut down of Google+ in October presented Silverback with an opportunity to encourage clients to utilize Google Posts.
Google has moved businesses away from radius target and has moved towards Service Areas instead. You now have greater control over your target area by specifying your service area by region, city or ZIP code.
Silverback responded by creating an updated target around GMB locations. We use the location targeting data from AdWords to build similar areas around their listing(s) if clients do not already have service areas mapped out and to find new opportunities.


Structured Data Schema Additions
Structured data expands and enhances the results that users see on a search engine results page. In 2018, schema updates added even more ways for users to get SERP info.
Date Published and Date Modified schema were two of the most interesting innovations to structured data schema. Date Published schema should be used for non-evergreen content that is constantly changing — news, technology information, reviews.
When evergreen content is updated, the Date Modified property can signal to Google that the content is current and relevant to searchers.
These schemas allow users to decide if the date of content will help them find what they need.
While Recipe Markup is still optional, Google started recommending category, cuisine and video keywords. Not having one of these schema for a recipe results in warnings on the structured data testing tool.
Another major release: Speakable Markup was introduced in 2018. Sites with speakable structured data allow Google Assistant to speak back marked-up content. Voice search, with the help of smart speakers, is becoming more and more prominent in the search environment and is quickly contributing to a fairly major shift in SEO strategy.
If you are deciding if voice search should be a part of your strategy, check out this article.
New Version of Google Search Console
Google launched an updated version of Google Search Console this past year. While you can still use the old Search Console, warnings are issued to users that certain features will be unavailable in the near future. Many of these features impact reporting.
In addition, Search Console is using mobile-first indexing data for reporting.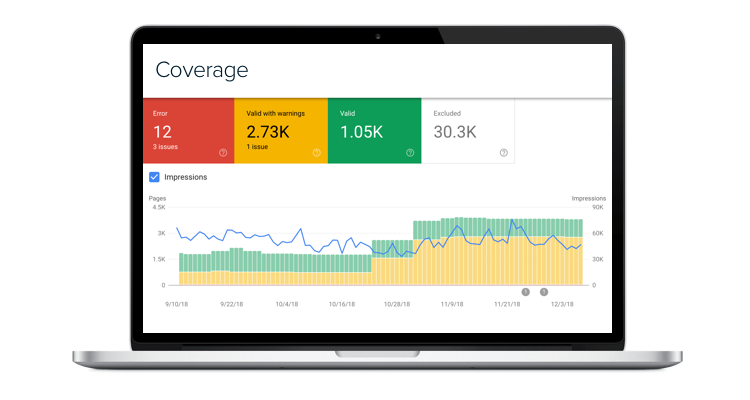 Meta Description Length Increased, Then Decreased
Meta descriptions simply describe the landing page to searchers. At the end of 2017, Google increased the meta description length limit to 290 characters. In May 2018, Google decided to revert back to shorter meta descriptions, recommending they be kept between 120-158 characters.
These descriptions are not a direct ranking factor, but have proven to impact click-through-rate — which does, in fact, contribute to ranking.
Click-through rates have proven to be beneficial to keeping and improving rankings. Many pages with high rank but low CTRs ended up dropping over time. Silverback responded to this issue by prioritizing the testing of call-to-actions.
Happy New Year, SEOs!
There's a pattern here: SEO updates in 2018 were geared towards improving user experience, a trend we can safely predict will continue in 2019.
Wondering what 2019 will look like? See what SEO experts at Silverback have predicted SEO will look like in 2019 here.