In the ever-changing world of organic search, the margin is wider than ever when comparing the difference in SEO strategies for a large enterprise-level business with a small local law firm. This is mostly due to all the algorithm changes Google and others have made in their quest to make sure searchers are seeing the most relevant information. Because of this, Google has been trying to detect whether the intent of your search can be best answered through companies that are in close proximity to your desired location -- either by simply using the location that may be entered as part of the search query (Example: "best restaurant washington dc") or by detecting your current location via your IP address. To see this example first hand, search "personal injury lawyer" on Google. Odds are the results that appear are based on the city or town closest to you. Google's Local listings will also most likely show up, with corresponding points from Google Maps along the right side of the page.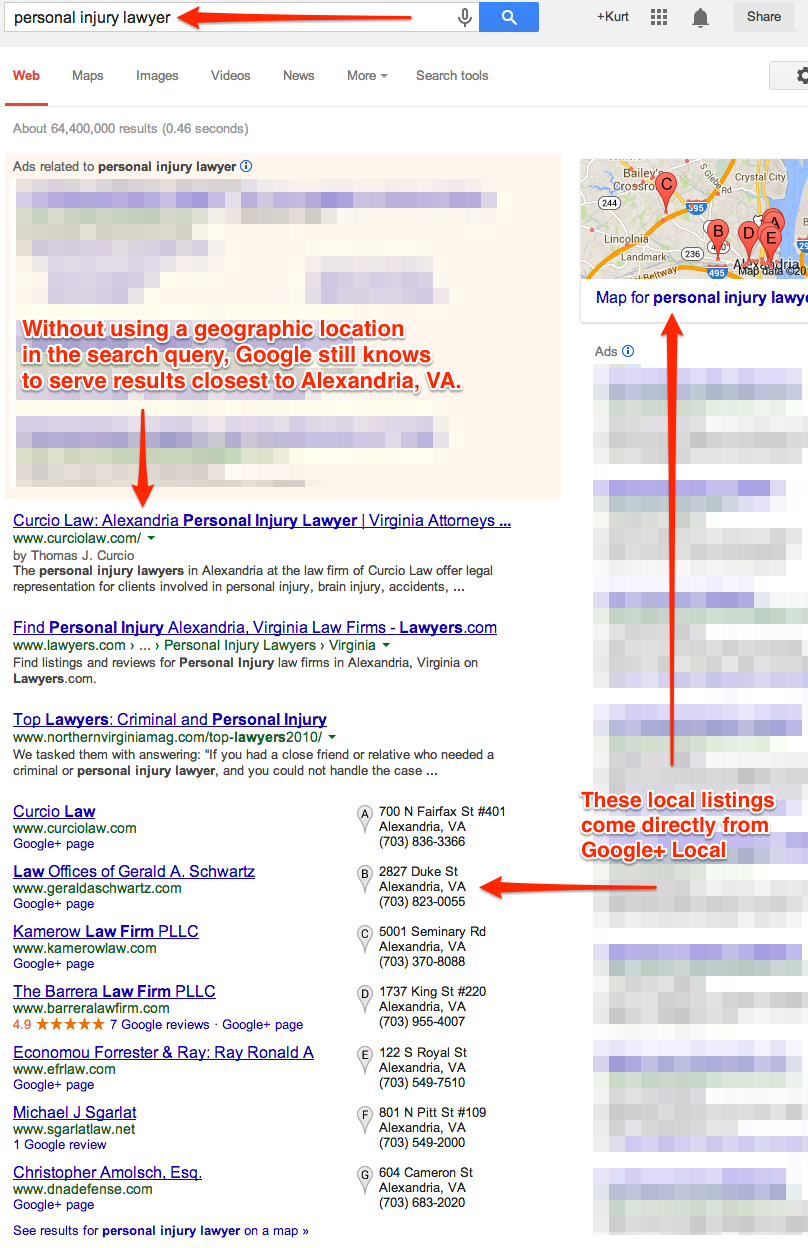 With this shift in Google's Local results, companies have tried to adjust to make sure their websites were playing to the local search algorithms in hopes of bringing in as much local organic traffic as possible. So exactly what kind of adjustments have companies started making? Let's take a look at some key tactics to keep in mind when optimizing for local search:
1. Business Citation Auditing
One of the most important areas to keep in mind with local search is not so much moving forward with any kind of SEO strategies, but rather taking a look at what's already been done and making sure that "all your ducks are in a row." This means looking at citations that are currently existing on sites like Yelp, Yellow Pages, SuperPages, etc. and ensuring that the name, address, and phone (NAP for short) information is accurate across all these directories. The benefit to this is two-fold; one being the fact that all the information is, in fact, accurate in case a potential customer finds your business on one of these sites and decides to contact you directly from there. The other, arguably much better, benefit is that the higher the number of citations that are existing with all the same correct information, the more it builds up a business' authority in the eyes of Google's local algorithms. A popular and easy-to-use site for doing this audit is GetListed.org.
2. Business Citation Building
Piggybacking off of the first point, after a citation audit is complete the next step is to take care of any other citations that may have been found to be missing. The more that are able to be built, the higher a local business' authority. Many citation directories also allow the option to add in your website's URL. This carries the potential benefit of counting as a followed link, usually from a strong website.
3. Google+ Local
Formerly known as Google Places, Google+ Local is now the central location for all of Google's business listings. This includes all the results that show up on Google Maps and local results on a normal organic search. Having Google verify your physical address (either via a postcard or automated phone call) and integrating your listing into your website are really big steps in improving your business' credibility on their platform, thus resulting in higher visibility on local searches. If a local business isn't on Google+ Local, they probably aren't getting too much organic traffic to their website.
4. Reviews
Much like the actual business citations themselves, the positive reviews on those citations have more than one advantage. Positive reviews for any business certainly help the image of a company. High ratings on a website like Yelp build trust in a potential customer's mind. They also help build trust in Google's local algorithm (common theme here). So get all your satisfied customers to leave some nice reviews!
5. On-page Contact Info
Shouldn't your actual address and phone number be as accessible as possible on your website? It turns out Google thinks so too. Having the NAP information, even if it's in the footer of each page, has some big local SEO benefits, as websites that do have this information visibly listed have better ranking positions in local searches. It also allows you to implement...
6. Rich Snippets from Schema.org
While Schema.org markup has been touched upon briefly in previous blog posts, it is certainly most applicable to local search. Under its Local Business category, there are literally dozens of subcategories for almost any local business out there. Utilizing the Schema.org rich snippets help tag your website with the most important information (NAP, business hours, reviews, etc.) customers and search engines alike would want to see. For example, taking advantage of this extra HTML coding to let Google know what your reviewer rating is on a particular website helps it stand out from the result of the results, like so:



7. On-page Content
Good content will always be one thing that's consistent no matter how big or small the SEO project may be. Local SEO is no different -- if you don't have content, search engine will not be able to "read" what your website is about, and will therefore not display your website highly in search results. Well-written content about your company's main service or product offerings combined with having your address listed on the same page work wonders together.
8. Rich Media Geo-tagging
If your company has a rich media account like YouTube or Flickr, you typically have the option of "geo-tagging" the media that is featured on those sites. Search engines are able to crawl these rich media websites, and if they see your business name associated with a particular location it is one more big step in building your company's authority in that area.
9. Organic Link Building
While not always as essential as some of the other local SEO strategies, it is important to keep a diversified link profile from a variety of referring domains to help boost the linking strength of your own website. For local businesses, having a few backlinks from other websites can make all the difference in dominating the competition. Organic link building for local businesses can sometimes be easier than it is for larger sites -- links from community websites like Patch.com are often times very attainable and relevant to that community's audience.
While Google's local search is constantly evolving, these strategies will continue to be mainstays of good local SEO practice. Businesses that are able to use these techniques will have a clear edge over their competitors that have neglected local SEO.