The annual Google Online Marketing Challenge (GOMC) is wrapping up its ninth year of competition. Thousands of college students around the world are turning in their final reports and, thanks to this intense experience, will either dive into PPC management careers or turn and run far away in the opposite direction.
A little background for those who are unfamiliar with this unique opportunity: the GOMC is a worldwide competition open to students from higher education institutions. Participating students, in teams of three to six, develop and run an online advertising campaign for a for-profit or nonprofit business of their selection.
As an official GOMC veteran -- I completed the GOMC during my final semster before graduating from James Madison University, January through May 2016 -- I will do my best to explain the challenge and give you a sense of what goes down during the semester.
Defining the Google Online Marketing Challenge

GOMC: 1. Noun. A window of opportunity for college students to peer into the world of paid search through an interactive AdWords competition.
From GOOGLE: "With a $250 AdWords advertising budget provided by Google, students develop and run an online advertising campaign for a business or non-profit organization over a three week period. The teams that develop and communicate the most successful campaigns win awesome prizes, including trips to Google offices."
2. Verb. Spending long hours of the day, night and weekend in the AdWords interface optimizing the client's account. I didn't go out Friday night because I was too busy GOMCing.
3. Adjective. Used by close friends to describe why marketing students are constantly in group meetings. Ashley, Hannah and Matthew are in the GOMC room again, we won't see them all day.
As you can see, defining the experience is a challenge in itself. The GOMC, often referred to as the "Google Class" during my time at JMU, is very flexible.
What to expect from the GOMC
Each year, Google provides its newest batch of Google Online Marketing Challenge students with suggested guidelines to follow. All students are asked to develop, implement and track a 21-day AdWords campaign using a $250 budget provided by Google. All students were required to complete their campaigns between January and June 2016.
In addition to the AdWords campaign, students could also tackle a 35-day Google+ social media campaign for their client. The Google+ is an optional assignment, and to save you some reading time, I'll just go into the AdWords segment (you can read the Google+ guidelines here if you are so inclined).

In order to be considered for judging, all teams are asked to submit pre- and post-campaign reports. These documents provide the judges with a behind-the-scene look into the actions each team took to align their campaign strategies with the client's overall online marketing goals.
Will you be my client?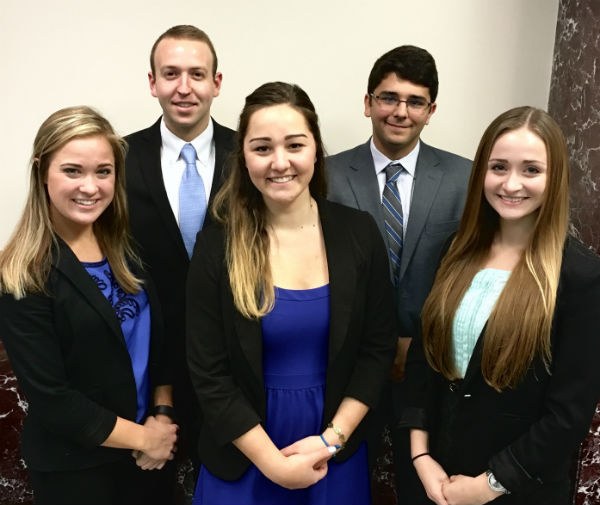 Amy's JMU GOMC team. Front row, from left: Emily Maynard, Amy Goffe, Christine Provino. Back row: Jacob Brown, Jacob Shibley.
My work began in December and carried all the way through until the week of graduation. As my team's account manager, I led the search for a non-profit client who was willing to put (part of) their business's online marketing strategy in the hands of five 21-year olds with no AdWords experience (seriously, none). My winter break was spent prospecting clients up and down the East Coast that met the following criteria:
The business was a 501 c (3) recognized organization
The business had no active AdWords accounts and little to no experience using the AdWords interface.
The outreach process included sending emails to enlist the trust of well-established businesses. I received my fair share of "thanks but no thanks" replies. With teamwork and, of course, a little luck, we nailed a client just before the start of the semester. Phew!
The art of GOMCing
We kicked off the GOMC journey with a conference call with the organization's key marketing personnel to help us better understand their brand, mission, vision and services provided. More importantly, we discussed:
Overall online marketing goals
Current online marketing strategy
Primary and secondary target markets
We found it helpful to review how our class operated, and provided a timeline for how long the challenge would last.
The team immediately began exploring the client's website. We took note of site load time and landing page content to help identify where the team would aim to drive traffic. After identifying four seemingly-promising landing pages, we were able to start constructing the account. With the help of Google's Keyword Planner, we composed a list of base keywords to start and built out a list of keywords for each AdGroup.
The art of GOMCing involves students finding ways to meet their target metrics through optimization. With a proper respect and even a little fear of the unknown, going live with the AdWords account felt like we being released in the wild.
After exploring the ins and outs of the AdWords interface, we soon discovered what optimization tactics worked and didn't work to help increase impressions, decrease cost-per-click, receive clicks and improve the click-through-rate. Discovering how to effectively manage bids, run reports, define location settings and set ad scheduling were some strategies students took to exceed their goals.
For all you AdWords experts out there who may scoff at the simplicity of some of our tactics, I know that we only scraped the surface of what AdWords can do for a campaign. But remember, we only had 21 days and $250.
Goodbye, Right Rail Ads
The students participating in the Google Online Marketing Challenge experience the same updates and changes as anyone else in the professional world who uses the AdWords platform. In February, Google's announcement of the elimination of right rail ads brought the first curve ball to the table. This change posed the potential for CPCs -- and competition for the four ad positions on top of an organic SERP -- to increase dramatically. With only $250 and a projected average CPC of $1.30, our stress level shot up.
Did we win? We don't know yet. The closing date for the competition was June 1, and the results won't be in until the beginning of August. I'll be sure to let you know how things turn out. How do I feel about our performance? It's hard to say -- each region gets a winner (American, European, etc.), so you can be a regional winner or an overall (i.e., the world) winner.
In the past, JMU students have done very well (2015 Americas winner; 2014 Global co-winner; 2013 Google+ Social Media Marketing Global winner; 2012 Americas winner; and so on). Because judges consider your industry, it's tough to compare yourself against other groups, but I think we did alright. Google does rank your reports as Strong, Good or Weak, so regardless of the final numbers, we will get feedback from the sponsor.
How the GOMC helps prepare digital marketers
Participating in the GOMC was one of the best experiences of my academic career. I was given the opportunity to work with a real client, manage a real budget and run a real campaign. In preparation for the challenge, our team became AdWords certified and had the chance to learn from search marketing professionals. Digital marketing agencies offering paid media services or internal marketing teams who use AdWords should consider hiring students who have taken on the challenge.
We experienced and managed high-level, time-consuming workloads and produced exceptional, well-thought-out, well-written reports. We became familiar with search jargon and now have the basics of paid search under our belts. No need to worry about awkward interview small talk -- the GOMC provides relevant talking points for students to answer the dreaded "why do you want to work in paid search" interview questions.
We can share stories of client-related issues and our strategies to how we did or did not overcome them. The GOMC definitely helped me grow as a marketer -- and helped me and my teammate Jacob Shibley land jobs here at Silverback Strategies the week we graduated from JMU.
If you have experience with AdWords, consider getting involved with a university participating in the Google Online Marketing Challenge. Offering advice, tips, and tricks could enhance the learning process and strengthen your future co-workers' digital marketing skills.